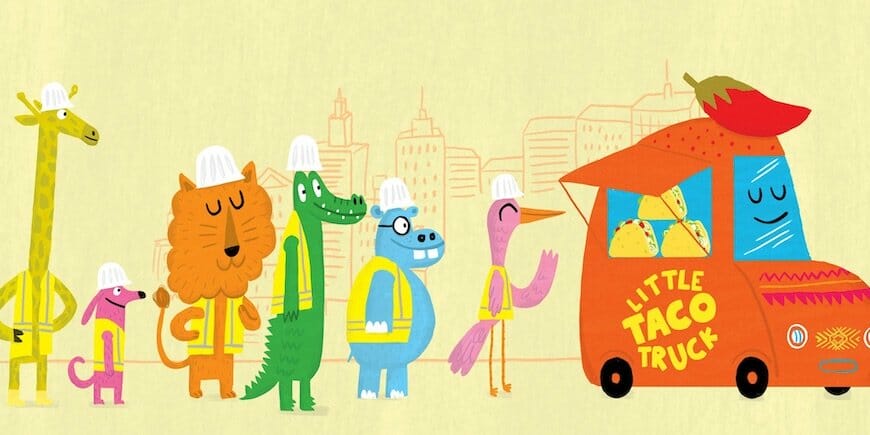 In the competitive $2.1 billion children's and young adult book market, authors and publishers need digital content that connects with a rising generation of new Millennial parents. That means marketing on social media and YouTube. To promote her upcoming sophomore release, Little Taco Truck, kidlit author Tanya Valentine used an animated book trailer created in Toon Boom Harmony by Tony Grillo, creative director of MightyPants Media.
Coming out April 2, Little Taco Truck was illustrated by Spanish artist Jorge Martin and published by Penguin Random House. The book is aimed at kids aged three to seven and tells the tale of the titular vehicle who sells his Mexican munchies until one day, he finds himself competing for customers and parking with other trucks like Gumbo Jumbo and Annie Arepas. Inspired by Little Taco Truck's story, Grillo created not only an animated book trailer in Harmony, but also three free tutorials for working with bitmap assets on his YouTube page.
Speaking of his process, Grillo said: "I received the designs from Jorge Martin as full Photoshop files and layouts from the book. I was able to peel pieces out those and build the characters and then I restructured them a bit so they'd import well into Harmony."
Watch Tony Grillo's Toon Boom Harmony bitmap tutorials below
Grillo independently animated the entire Little Taco Truck book trailer in about three weeks. Beyond the bitmap tools, the features that were the most useful to him were the deformers, which he used to set the 15 background characters in motion. Whenever he encountered issues or wanted to optimize his pipeline further, Grillo would turn to his friend and renowned Toon Boom trainer, Tony Ross (otherwise known as TonyTeach).
"Though Tony Grillo can draw circles around me, I come in as a problem-solver," Ross explains. "I figured out a way to get the drawing substitutions to work, even with an imported Photoshop document, using a combination of bringing them in and converting them into a symbol so you have an accurate read when you're doing the slides."
The two will next be joining forces on Ugly Vampires — an original IP to be produced in Toon Boom Harmony, with a pilot anticipated for Fall 2019. Given the industry-standard animation software's ease of use and their respective masteries of it, there is little doubt the process will be as smooth and enjoyable as the Little Taco Truck trailer. The End.

Banner image source: Tony Grillo / Penguin Random House