In 2017, Taylor K. Shaw was developing an animated series about black women living in Chicago. Shaw felt it was important to reflect her experiences, which informed her view that her project required black women creators to not only write for and voice the characters, but also design and bring them to life as well.
Every detail matters in animation. Every thoughtless cliche or recurring stereotype accumulates, and can alienate viewers that a show attempts to reach.
From her own coming-of-age watching Saturday morning cartoons, Shaw understood firsthand how important these details could be for viewers like her.
Shaw quickly encountered an obstacle: While she knew that there were black women working as animators, story artists and character designers, she found it difficult to recruit black women to fill these roles in her own production. At the time, there was no formal network and no process for drawing in animators who had lived experiences similar to the characters she needed to bring to the screen.
There would be maybe one black girl in a series, and the way she was represented, the way she spoke, the way that she was — it meant something to me. It really mattered.

Taylor K. Shaw
The lived experiences of black women in America are distinct, and this just as much a reality in the American animation industry. In June of 2019, the USC Annenberg School for Communication and Journalism, in partnership with Women in Animation, published a report about opportunities and challenges facing women in our industry — including women of colour.
The report not only found that women of colour were severely underrepresented both on-screen and behind-the-scenes in key roles — from 2007 to 2018, only three percent of the feature films sampled included a non-white woman as a protagonist, while Jennifer Yuh Nelson was the only woman credited as a solo director during that decade — the researchers also found that two-thirds of the women of colour who participated in the study reported negative experiences while working in the animation industry.
These negative experiences included being tokenized and needing to work harder than their colleagues — or see their contributions erased. Many of those participants expressed that while they understood that their own backgrounds were valued as an asset by employers, those studios and networks are often tone-deaf about issues related to gender and race. In this environment, the participants said that being identified for opportunities related to their identities led to suspicion and negative feelings.
These findings rang true for Taylor K. Shaw, who told Animation From Every Angle: "A unique challenge for creator visibility in the animation industry is that the barriers to entry have been so high for women of colour — and for people of colour in general."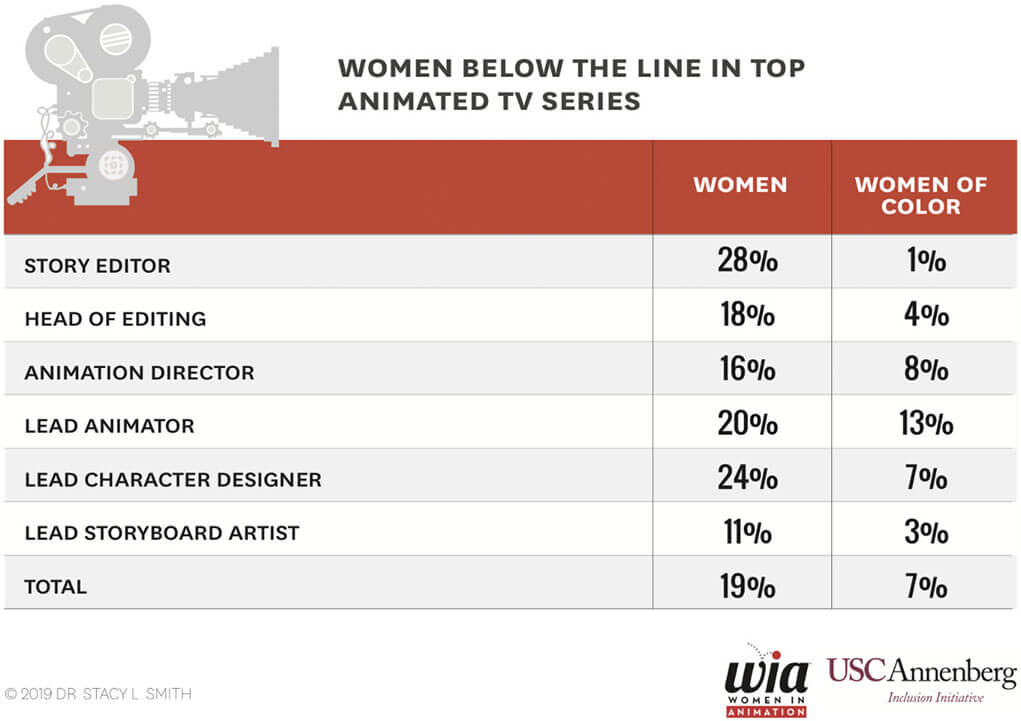 Outside of Annenberg, the American animation industry, as well as the broader entertainment industry, have been under increasing scrutiny for their lack of representation. Recent public movements demanding accountability for these issues in Hollywood include #OscarsSoWhite and #WhiteWashedOUT — which address inequities and imbalances of power in narrative, casting, production credits, as well as the Academy of Motion Picture Arts and Sciences' membership itself.
Animation is reckoning with an additional issue around on-screen representation. In 2017, comedian Hari Kondabolu produced a documentary, The Problem with Apu. The documentary was critical of The Simpsons for having Hank Azaria voice the role of Apu Nahasapeemapetilon — linking the performance to a history of blackface and brownface in the United States. The film ultimately led to Azaria stepping down from that role. In an interview with the New York Times, Azaria commented: "Once I realized that that was the way this character was thought of, I just didn't want to participate in it anymore."
In the current environment, studios and networks are facing two sets of pressures: First, they want to meet demand for more on-screen representation; they also do not want to unintentionally caricature broad groups of viewers. The most direct solution would be to include creators from underrepresented groups at every step in the production process, but it is easy for a studio to say that they want to be more representative — meaningful change requires persistent work.
Taylor K. Shaw saw that bringing in black women to animate her project would take real work, so she partnered with social entrepreneur and storyteller JLove Calderón to form Black Women Animate — a production company built to help black women, women of color, and nonbinary artists of color in the world of animation obtain visibility and find job opportunities — with input from experienced industry veterans like Sidney Clifton.
"Now we have a community of over 200 black women, girls and non-binary creatives of color who are animators," Shaw told Animation From Every Angle.
veryone right now wants to be more diverse and inclusive, and they don't have to do it alone. Black Women Animate is here to partner — on original content, on commercial projects— to really support the entire industry in being a part of our mission of bringing true equity to Hollywood and beyond.

Taylor K. Shaw
As a young company entering into their third year, Black Women Animate has been developing a reputation as a small-but-mighty production company. The studio works with freelancers, pulling teams together based on the needs of a given production. Black Women Animate has completed commercial work for clients including Footlocker and Adult Swim, and was recently brought on for a project at a major network — in part, thanks to getting details and nuances in character designs right.
Cartoon Network partnered with the studio for the past two years to run the Black Women Animate Bootcamp. The aim of this bootcamp is to connect animation professionals with Black Women Animate's community, while helping women and non-binary creatives of color hone their crafts and find paths into the industry. Last year's event featured a portfolio-building workshop with Cartoon Network's recruiters, a conversation on owning the table with Brenda Gilbert of BRON Studios, as well as breakout sessions led by industry creatives including Shawna Mills, Halcyon Person, Stacey Evans Morgan, Kiana Khan Smith and Lynne Southerland.
BWA's sister company, Inspire Justice, co-sponsored the event and hosted a raw and unfiltered conversation about race, gender and equity in the industry with actors of the likes of Matt McGorry and Karla Souza (HTGAWM), Dawn-Lyen Gardner (Queen Sugar) and veteran writer Dayna Lynne North (Veronica Mars, Insecure), among others.
For Taylor K. Shaw, it was a dream come true: "What Black Women Animate is for me, and why the bootcamp training days are so magical, is I can see the young people realize that 'this is a job I can do' in a room filled with people who happen to look like them. Our bootcamp is a meaningful opportunity to invite creatives to stay connected to their dreams and to their art."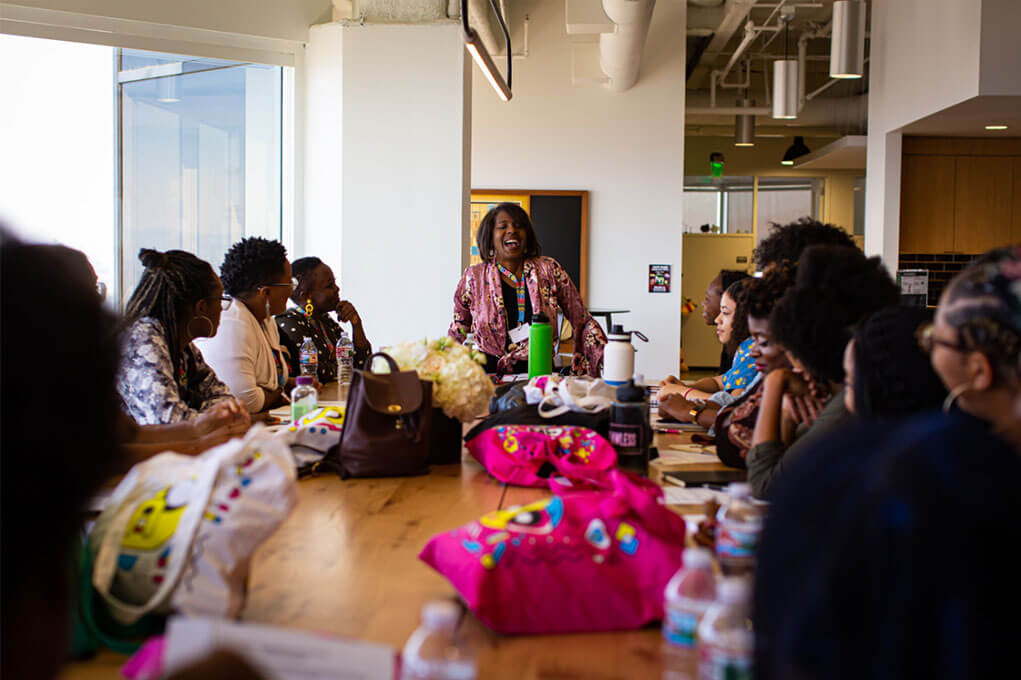 Managing Partner JLove Calderón adds, "One of the biggest challenges facing women of color and non-binary creatives of color is access to production companies and studios who can employ them and/or whom they can pitch their orginal content too – our Bootcamp brings together industry execs, side by side, with our artist community. We are breaking down the walls that separate us: creating access; building bridges; getting people meaningful work doing what they love."
"Animators are arguably the architects of our childhood. This art form provides so much space for all of us to escape and imagine more," says Taylor. "I love the craft, personally, because it is beautiful to see so many hours of work go in, and what comes out is a product that brings us further into the minds of amazing creators. I am really inspired by all of the artists that we work with as Black Women Animate. They inspire me to create and keep creating."