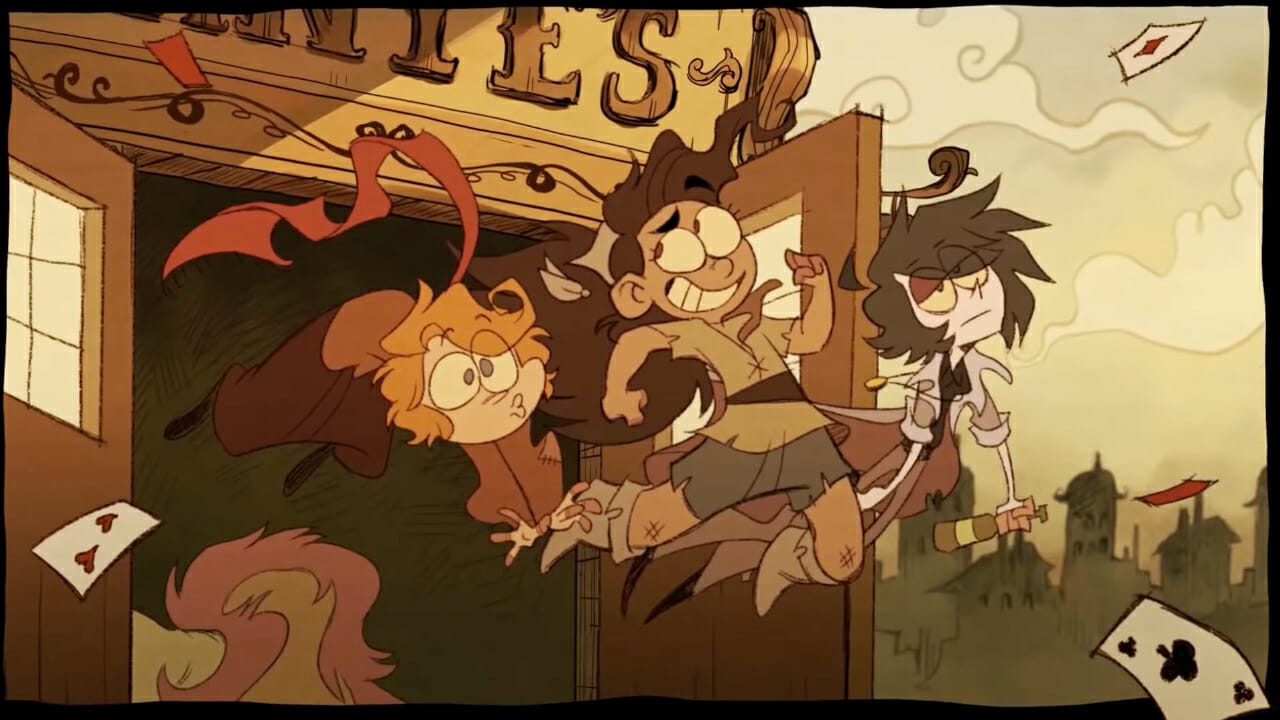 Each year, Toon Boom Animation selects 50 animators and artists to participate in their Ambassador Program. To celebrate 2021's selected artists, we will be showcasing their work and personal projects on the Toon Boom blog.
Kicking off this series is Zi Chen, a recent graduate of Sheridan College who is currently a story trainee at Netflix. When she isn't contributing to animated features, Zi spends her time building a world of her own. We had the pleasure of speaking with Zi about her graduate film and ongoing passion project: Ramshackle.
Ramshackle unfolds amidst "a chaotic mashup of vintage aesthetics" from Zi's imagination, and sees a crew of characters overcome various capers. Made up of three distinct personalities, the friends — dreamt up by Zi in sixth-grade — have instant appeal. In the short-film below, the trio take us on a wild chase through Cowboy country. With the short and an accompanying web-toon already available, Zi assures us that she's busy building out the Ramshackle world, its characters and background lore.
Dive into our interview with Zi below to discover how she put this Ramshackle short together!
Can you tell us about yourself and your story getting into animation?
I'm a recent graduate of Sheridan College's animation program. I've done freelance work for indie animated series such as Hazbin Hotel, Helluva Boss, and the upcoming Lackadaisy film. Currently I am a story trainee at Netflix!
I guess my animation roots really stemmed from Neopets.com, a virtual pet site. The site had its own 'newspaper,' where users were allowed to submit their own articles, short stories, and comic strips to get published weekly. I enjoyed drawing at the time, so I wanted to try making comic strips. I made characters based off of the Neopets I owned, and gave them personalities and backstories. I got really into making comic strips because I enjoyed making people laugh through my drawings and characters, even though I was pretty boring in real life. I eventually found out about animation, a medium that values character-driven stories and making people laugh, so I decided that was the path I wanted to go down.
I enjoyed Ramshackle! How did you put this thesis film together?
Ramshackle was done for my last year at Sheridan College, as a big final project. Everyone had to do one, so the process was sort of laid out for us — they gave us 'milestone' deadlines to hit at every stage. The hardest part was coming up with an idea.
I've had the Ramshackle characters since sixth grade, so luckily I already had a world and characters to use. I settled on a chase film since I thought it would be a good way to show how chaotic my characters are. I then wrote a script, and did storyboards to see how I wanted to visually tell the story.
After that, I got voice actors to record the lines and I timed my storyboards out with the voice lines to create the animatic. Once I was happy with the animatic, I drew and painted the backgrounds I needed as per the storyboard. At the same time I sent off the animatic to my composer to work on the music. Then, I chopped up my animatic into scenes to animate. I animated the characters and effects and enlisted volunteers to help flat colour the frames. I then exported the completed animation to put with the backgrounds, and adjusted the colours/lighting in After Effects. I put all the completed scenes together to make the film and then sent it to my composer to finalize the music and sound effects.
The whole process took eight grueling months, but it was totally worth it in the end.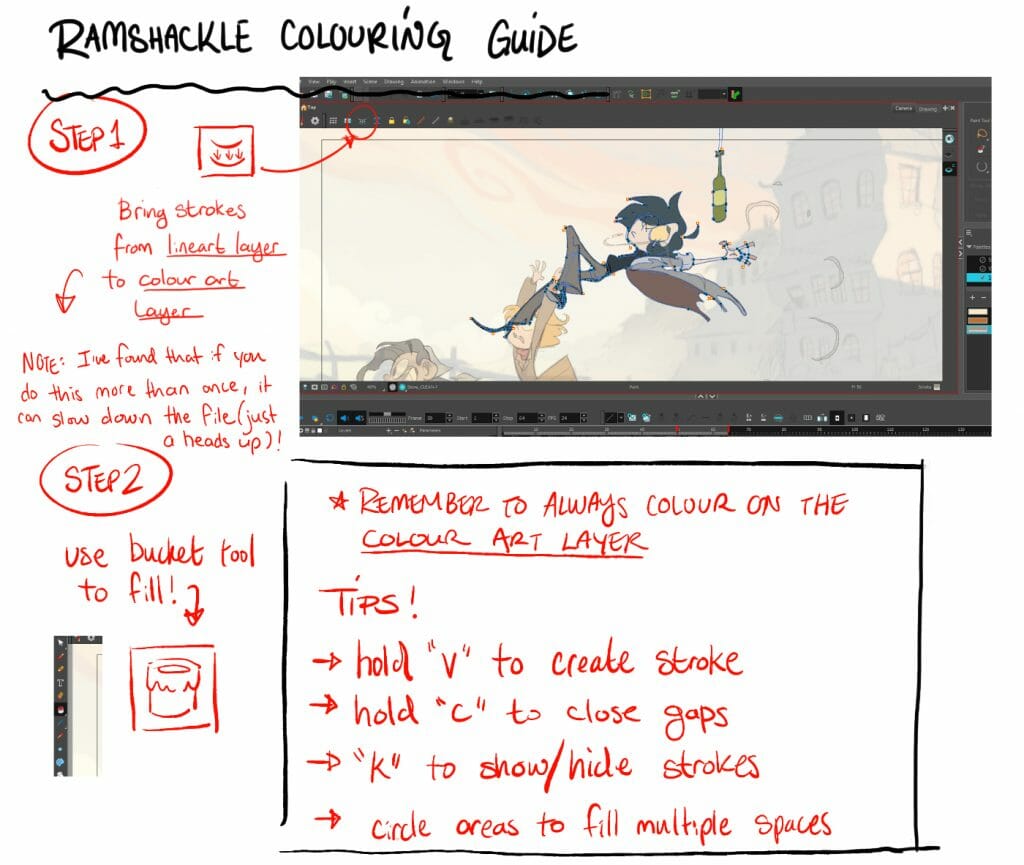 Which tools or software features were helpful when making the short?
I'm a huge fan of Storyboard Pro when it comes to storyboarding. Being able to not only draw your boards but also to time and edit to sound and music in the same program was such a blessing.
What was the biggest challenge you faced?
One of the biggest challenges was deciding on a story I wanted to tell a minute-ish long short. At school, they really stressed that your thesis film could be the only film you will ever complete in your life and that really put the pressure on choosing the 'perfect' story. I think I also wanted to cram way too many things into the Ramshackle thesis film. In the end I just had to settle for something to get the grade and graduate. I now realize that I won't ever stop making films, so I really shouldn't have worried so much.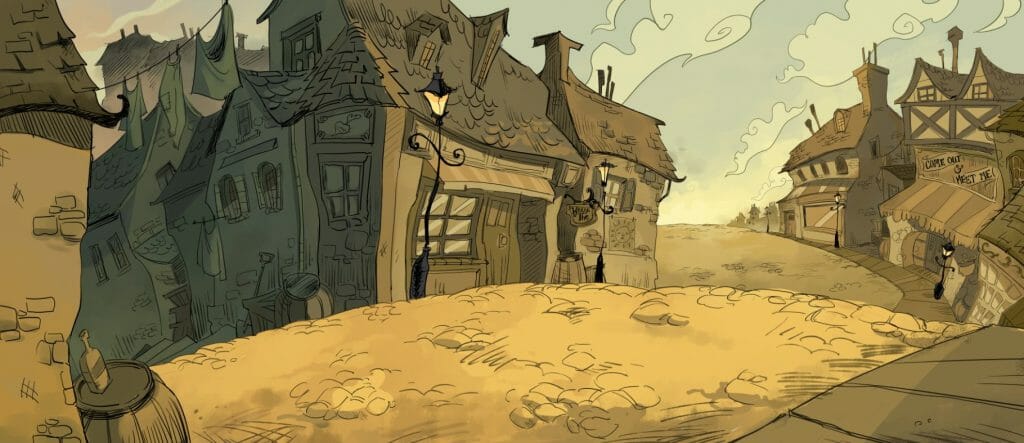 Ramshackle looks to be based in a Western setting. Can we expect familiar features of this genre to make an appearance?
Actually it's a common misconception that Ramshackle is based in a Western setting! Ramshackle's setting is actually a chaotic mashup of vintage aesthetics that I enjoy, one of which is Western. The setting is basically like walking into an antique store — not everything is from the same era, but the place just has that vintage vibe.
Vintage aesthetics have always appealed to me — I just love the grittiness of it. I wanted Ramshackle to have that vintage feel but I didn't want it to be historically accurate so I just decided to make my own setting up so no one could judge me.
The three friends seem to have quite different personalities. How did you convey their individual personalities through the character animation?
Character acting has always come pretty natural to me, especially with these characters since I've had them for so long. I animate Stone rather restricted since he's not as emotive as the other two. For example, his mouth shapes never open as wide as Skipp's or Vinnies. He also runs without much swing of his arms. Skipp is really expressive so I animate him quite snappy and almost like a liquid. Vinnie's a little more grounded, but she's still loud and talkative so I animate her somewhere in between Skipp and Stone. She always has some sort of smug sort of expression on her face, haha.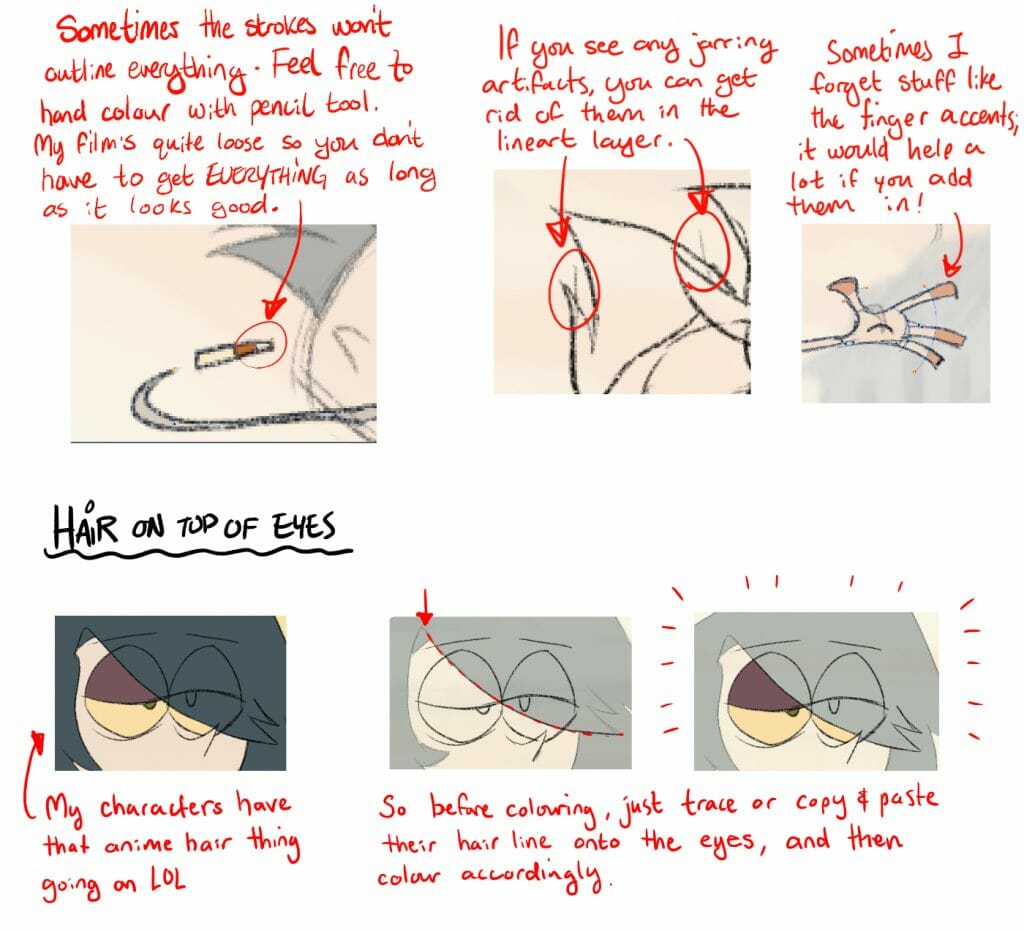 The character of Vinnie looks like an archetypal cool-kid. Is she based on or inspired by anyone in particular?
Not really! When I first made her she was just your typical tomboy character. As the years went on she eventually became the chaotic and sleazy female character that I've always wanted to see in the media. Sometimes a bit of me slips into her personality, but she's not based off of anybody in particular.
As well as the short film, Ramshackle exists as a webtoon. Do you plan to create more animated episodes?
Yes most definitely! I want to expand on the characters and universe in more than one medium since it is such a vast world with so many different characters. I don't have any specific episodes in development yet, but I am entertaining the idea of having Ramshackle be a series of tiny 1-3 minute webisodes in the future. Hopefully I get time to make them!
Is there anything else you're working on that you'd like to share with us?
In terms of personal work, I'm currently releasing comic pages of Ramshackle on Webtoon! However—even though I have the comic up, the pages I'm currently releasing were done 2 years ago. Ramshackle has really changed since then, even since the thesis film released one year ago. So I've actually been spending my time developing and reshaping the world, lore and characters into something more solid. In addition to that, I've just been working on small fun animations, character doodles, and speed paints for my Youtube channel. I post a lot of my development stuff on Patreon!
---
Interested in seeing more work from Zi Chen? You can also find Ramshackle on Webtoon and support Zi Chen's projects on Patreon.