Fairness and equality are common themes in children's animation — though you wouldn't necessarily believe it if you looked at the industry. A widely circulated study by the USC Annenberg Inclusion Initiative and advocacy group Women in Animation (WIA) found that in the last 12 years, women represented just three percent of animated film directors and only one of those filmmakers (Kung Fu Panda 2's Jennifer Yuh Nelson) was a woman of colour.
According to WIA, women occupy just 20 percent of creative roles in animation, representing 10 percent of producers and directors, 17 percent of writers, 21 percent in art and design, and 23 percent of animators. The proof is in the productions: more efforts must be made to turn our society's principles into progress.
Five in Focus is a year-long program improving gender equity in the animation industry. Designed by Women in Animation's Vancouver Chapter and Women in View, five women were nominated to represent key positions in the market where women are traditionally underrepresented — aiming to advance their careers through extensive mentorship from the WIA community, exposure to a wide range of industry activities, master classes, pitch training and more.
The women selected for Five in Focus include director Stephanie Blakey, writer Jen Davreux, producer Amanda Konkin, animation director Kaitlin Sutherland and art director Maisha Moore. The program also provided them with the financing to create a 2D animated short, The Butterfly Affect. The film follows a worm trying to make its way in a world built for butterflies — relevant, right?
The Butterfly Affect took its inaugural flight at the Mothers of a Medium program on October 27 at the SPARK ANIMATION 2019 Film Festival, with all five women in attendance. We spoke to them ahead of the premiere to explore why they are passionate about animation, their experiences in the industry and in the Five in Focus initiative, and how they believe the market can be improved for other women.
Five questions with the Five in Focus
Stephanie Blakey, director
Stephanie Blakey is a storyboard artist at Atomic Cartoons in Vancouver, where she has worked on the Netflix series Cupcake and Dino and The Last Kids on Earth; the previous short she directed, The Last Resort, was an animated comedy-horror that won the Audience Award at the Austin International Film Festival and was screened on the international festival circuit. After attending Emily Carr University for animation, she obtained her Master's degree in Directing Animation from the National Film and Television School in England and has television series training from La Poudrière in France.
Why do you love animation?
I love how you can tell so many stories in so many incredibly different ways — I'm always surprised by animation and what's possible. I also love the amount of control one has over a film; every single thing is tailored specifically in an animated film and every decision has a reason. Animation is not a genre, it's a medium. You can create the corniest of comedies or the darkest of dramas and use every part of the animation process to enhance the experience.
What's your experience been like as a woman in the animation industry?
Overall, it's been great! I find that there are tons of women or women-identifying folks in the animation industry, so it's definitely not the boys' club it used to be. There are still times where I'll have to point out problematic things to men while on the job, but I'm incredibly lucky in that they've all been kind, understanding and easy to approach. Sometimes you may feel hesitation to speak up, but at the end of the day if what you say or point out will have a positive effect on the final outcome, say it — chances are they'll listen and know better for next time.
In your opinion and experience, what else can be done to make the animation industry more accessible to women?
The simple answer is to hire more women! Having more women or women-identifying people in the workforce will ensure that they hire others and so forth. Also, if you're a male in the animation industry and women or women-identifying people approach you with questions or concerns: listen to them — especially if you're in a place to help out. The very least you can do is listen.
What has been your favourite part of working on The Butterfly Affect?
There have been so many things. If I had to narrow it down, I'd say that it was being able to meet and work with the other four women. I've learned so much from each of them and have the utmost respect for their work, and am so proud of how far they've come and how far they'll go.
How has been being part of Five in Focus helped you advance professionally?
I'm still submitting [The Butterfly Affect] to film festivals around the world so there may be more professional advancement to come. I've already been offered a promotion to the position of storyboard supervisor [at Atomic Cartoons] and am absolutely thrilled to have more creative input at my day job. It was also mind-blowing to think that for years I'd been attending the Annecy festival as a hobby, but this year my team and I were there as speakers at the Women in Animation World Summit. I'll be singing praises for the Five in Focus initiative for years to come.
Amanda Konkin, producer
Amanda Konkin has a masters degree from the University of British Columbia and, after a decade producing in theatre and digital media, she transitioned into film and television in 2013. She is currently a production manager at Rainmaker Studios, though her extensive credits list includes Reboot: The Guardian Code for Netflix, Surfs Up 2: Wavemania (Sony) and The Switch for OutTV.
Why do you love animation?
After I started working in film, I found my way into animation in 2015 and fell in love with the medium. I grew up with Disney as a cornerstone of my childhood —the first movie I ever saw in a theatre was The Little Mermaid — and those animated stories were so formative in my early years. I'm so pleased to be able to work in this industry now and help tell stories for young audiences, and shape their formative experiences.
What's your experience been like as a woman in the animation industry?
I feel very supported as a women in the animation industry. Organizations like Women in Animation and Women in View help me recognize that there are so many women who have come before me that worked hard to form a supportive community that I am lucky to be a part of. It's nice to find similar stories and experiences in such a male-dominated industry and I am grateful to have worked with such amazing people in my past projects.
In your opinion and experience, what else can be done to make the animation industry more accessible to women?
Create a culture of acceptance and support. It's important that studios work to support women in important creative roles. If you are a woman getting into the industry, find a community, a colleague or a mentor that will help you get through and find your voice. Support the success of your peers and realize that we all have the power to raise each other up through our personal accomplishments!
What has been your favourite part of working on The Butterfly Affect?
Working with the other women! We have a Google Chat group that we all communicate through regularly and if I'm having a particularly stressful day or if something really great happens, I have the impulse to jump on the chat and share with the team. It's really incredible to have built this sense of camaraderie and even though we are working towards something tangible together, it's these moments and relationships that I will remember most fondly.
How has been being part of Five in Focus helped you advance professionally?
The Five in Focus program has been great in helping mentor us through our own IP creation and providing amazing resources, sponsors and technology for us to utilize during our film production. We have made some amazing connections and the knowledge I have gained throughout the project has already had a huge impact on my other creative projects. After this project is completed, I will be working towards the delivery of a live-action short film called H.appiness that was awarded the National Harold Greenberg Shorts-to-Features Grant.
Maisha Moore is a Vancouver-based designer and illustrator, currently working at Cinesite as a development art director. A graduate of Capilano University's 3D Animation program, she has switched her career's focus from CG modelling, shading and texturing to design — now creating everything from toy packaging to imaginary worlds within feature films.
Why do you love animation?
I love to draw and was drawn to animation from an early age. The art of storytelling through a hand-created visual medium is nothing but magical. I knew I wanted to be in the industry in some capacity by the time I was 14.
What's your experience been like as a woman in the animation industry?
I have had a good, respectful experience thus far in my career, but I know that is not everyone's experience.
In your opinion and experience, what else can be done to make the animation industry more accessible to women?
I think we need way more exposure of the non-drawing jobs for women who are talented in other areas beyond purely visual art or animation. We so often focus on art — people perceive the industry as being for visuals artist only. Studios don't run without writers, accountants, IT techs, coders, coordinators, producers and human resource managers, to name a few. I feel we need more women in these roles.
What has been your favourite part of working on The Butterfly Affect?
I loved working with our small team. Creatively you can change direction very quickly, problem-solve on the fly and chop up and redirect the pipeline at a moment's notice. This causes chaos on long-format studio productions. It was very exciting to be able to switch things up and work in this agile way.
How has been being part of Five in Focus helped you advance professionally?
The Five in Focus program has been great, I am now a production designer. The program has made me want to develop my ideas and art more. I want to create passion projects and spread more art.
Jen Davreux, writer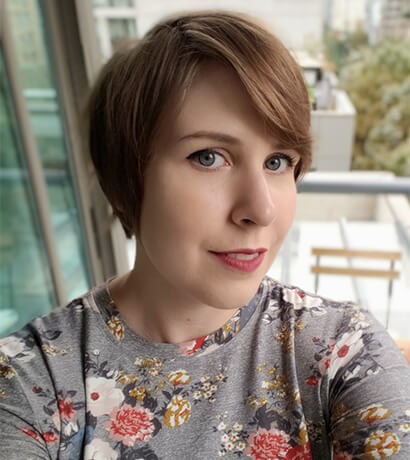 Originally from a small town in the Okanagan, Jen Davreux is a storyboard artist, independent comic artist and writer in the big city of Vancouver where she is pursuing a career in animation. She developed a passion for drawing and storytelling at a young age, and beyond her writer role at Klei Entertainment, she currently co-writes a webcomic titled Go, Titan X! and has recently begun plugging her words into video games.
Why do you love animation?
Animation is such a creative medium and I was always drawn to the idea that you could create worlds and characters entirely from scratch. It has a unique way of simplifying and amplifying movement and emotion to give you a feeling that you just can't replicate in live-action. There was an incredible boom of action shows with awesome female leads when I was a kid — Kim Possible, My Life As a Teenage Robot, Sailor Moon — and I think they really sparked my imagination for the kind of stories I wanted to tell.
What's your experience been like as a woman in the animation industry?
There's been some happy surprises and some not-so-happy ones. The first happy surprise was finding out there were actually many more women interested in animation than I'd been led to believe when I'd been applying for schools; in my program, we actually made up the majority of the students. I also feel like I've been very lucky to work with a lot of directors and supervisors who actively wanted to help me and women in general grow and be a part of the industry. The biggest frustration I always found animation actually caught me off-guard when I first encountered it, and that was with the content we were —and weren't— producing.
I noticed that whenever I'd draw a female character frowning or showing frustration, I'd get a note back from the clients along the lines of "she looks too 'bitchy'" or "please change this to have her smiling", with no such notes for the male characters.

Jen Davreux
When I pitched an idea for a show I had, I was thrilled to get called back to discuss moving forward with it until they told me that they thought the roles of the lead girl and her sidekick male friend should be switched to put the boy in the lead. I was told a girl lead in an action-comedy series wouldn't sell and was given an example of a single show with a female lead that hadn't done well the previous year. All I could think of were the many female-led shows I had grown up with that had inspired me to go into the animation industry.
In your opinion and experience, what else can be done to make the animation industry more accessible to women?
I've been seeing a push recently to see more women and girls onscreen, and I think that's definitely a big step in the right direction. It was one of the things that inspired me and made me feel like the animation industry would be a welcoming place, and I know it will do the same for a new generation of girls.
What has been your favourite part of working on The Butterfly Affect?
Early on, when I sat down to write my first draft of the script, I had a moment of, "Wow… I'm writing something that's actually going to be animated and turned into something" and I was just giddy. I've also been able to meet a lot of really amazing people —including the four incredible ladies I got to work with— that I most likely wouldn't have had the chance to otherwise.
How has been being part of Five in Focus helped you advance professionally?
It really helped to push me and change my mindset. I felt my attitude change from, "I really want to be a writer, but I'm not sure if I'm ready or good enough," to: "I am a writer, I've already proven that I can do it and now I just need to find a job!" Knowing that I had such strong support from everyone connected to Five in Focus and Women in Animation also felt like this gentle hand on my back keeping me moving forward, without fear of stumbling. Having a credit to my name gave me more confidence to go out and apply for writing positions, and I found people reached out to me as well after seeing my name connected to the program.
Kaitlin Sutherland, animation director
Sutherland is a 27-year-old animator living and creating in Vancouver, British Columbia. A graduate of Sheridan College, she currently works at WildBrain where she has risen the ranks from layout artist to animation supervisor, overseeing productions including Dorg VanDango and Netflix's Chip and Potato.
Why do you love animation?
Animation is the very literal manifestation of my imagination — things that are impossible to achieve in reality, scenarios and characters that could not exist outside the bounds of our minds are given life through the art of animation. I grew up watching a lot of cartoons. The stories, the colours, the movement, everything about them captured my attention completely. It was while watching the making-of feature on my Lilo and Stitch DVD that I first realized there were people behind the animation I loved and that they got paid to make it! It was obvious to me from that point on that working in animation was a definite career goal for me.
What's your experience been like as a woman in the animation industry?
Honestly, I don't think there's been a better time in animation's history to be a woman. Certainly there are still areas where the divide between the genders seems quite large, specifically the lack of female directors or women in higher roles not relating to production support. I'm currently working on Dorg VanDango, a Cartoon Saloon and Wildbrain co-production with an all-female animation supervisor team! It's awesome having so many talented women in one room working together to make a show, however this is a 2D production and I believe these roles are still fairly male dominated on the 3D side of things. I'm very glad that the Women in Animation, Women in View and Five in Focus program exist to help highlight talented women in this industry and help even the divide in leadership roles.
In your opinion and experience, what else can be done to make the animation industry more accessible to women?
Continuing to support programs like WIA's Five in Focus would be an amazing way to continue to highlight up-and-coming female talent and give women the opportunity to move into the roles they may be overlooked for in their day to day jobs. I truly believe that the exposure from this program is going to go a long way in adding some extra support behind my desire to move into higher roles in the industry. With or without the program, I want to highly encourage the women in this industry to go for the jobs they want.
I feel like a lot of young women are taught to be overly cautious and hesitant about speaking up lest they seem like they're bragging or being overbearing in some way, but I'd really like to encourage my fellow female artists to speak up and believe in themselves.
What has been your favourite part of working on The Butterfly Affect?
The learning experiences and the travel opportunities are definitely my favourite parts of working as part of The Butterfly Affect team. Now that the film is done, I can safely say I knew next to nothing about how to put together a short film of this caliber. Of course I've made a short film on my own in the past, but it's a whole different story when you've got so many artists to keep track of, a crazy amount of high profile sponsors and are planning on tackling the festival circuit once the film is completed. The whole process has opened my eyes to how many moving pieces there really are under the surface of making a short.
It would be a shame not to see more talented women stepping into higher roles because they were too shy to say they could do it. You can do it, I believe in you.

Kaitlin Sutherland
How has been being part of Five in Focus helped you advance professionally?
The animation director title sure looks pretty on my resume [laughs]. Honestly, having worked as an animation director on this film for the better part of a year has made me question if this is the next step I want to take in my career — I had to wear A LOT of hats during this production, so many in fact that it really lead me to question what exactly fell under the job description of animation director and it definitely wasn't what I expected.
Being on such a small production team, we all had to step into a lot of roles to get this film done; asking around though, it really seems like the role is different depending on what the production needs. I'd love to be able to say that this film immediately launched me into my dream animation director position, but if the opportunity to do so arose, I'd feel a lot more comfortable stepping into that role now than I would have been before this project.