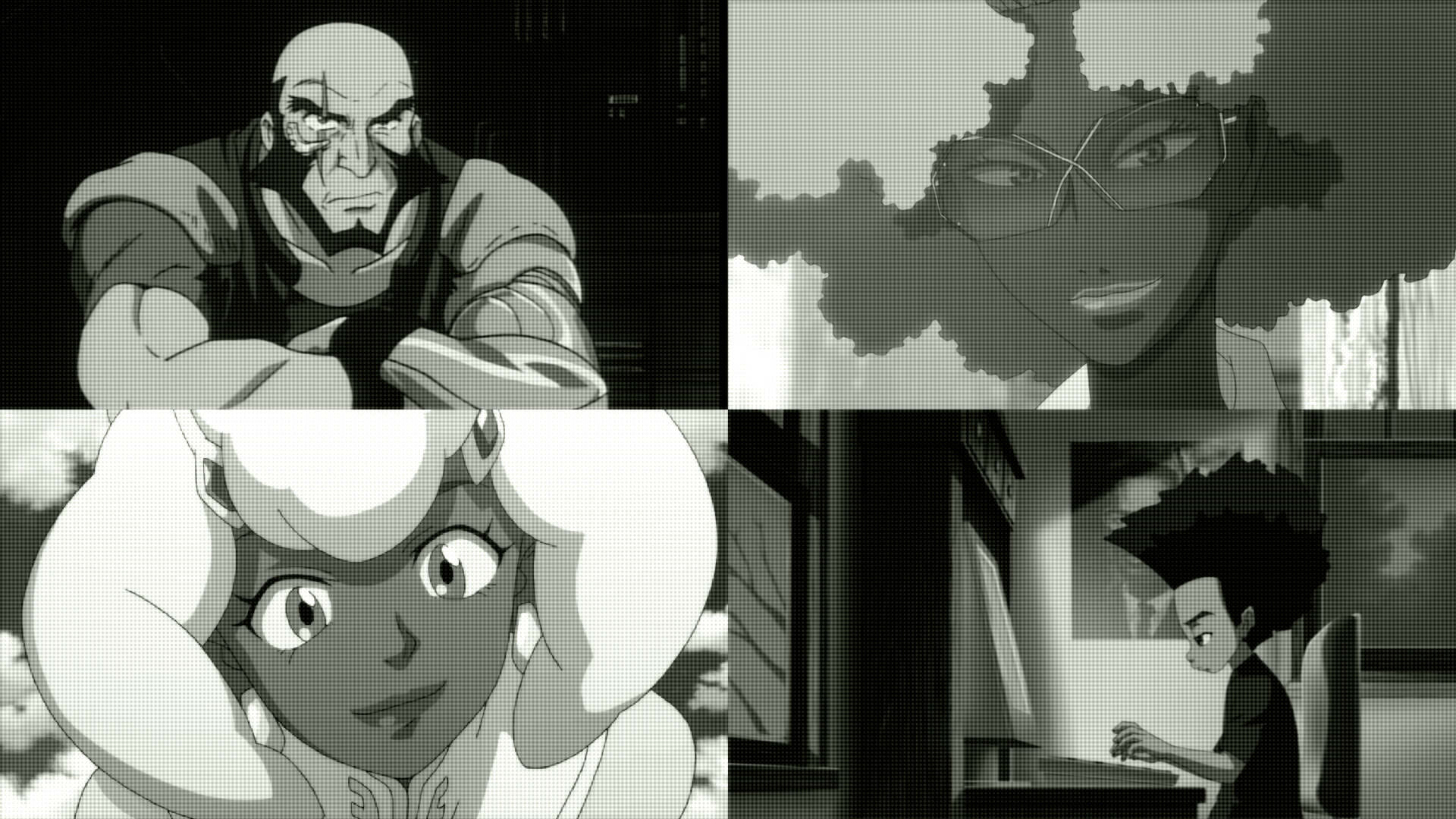 There were always Black fans who identified with anime, including in the 1980s, when in-the-know Americans would meet up to buy and discuss Japanese animated titles such as Akira and harder-to-find bootleg OVAs. The movement was rooted in a grassroots scene that relied on word-of-mouth and physical spaces like video shops to sustain itself. Comparisons can be made to the mixtape culture of early hip-hop that was developing contemporaneously. This should come as no surprise, given how hip-hop so often serves as, to quote Nerds of Color writer Kendall Bazemore, "the vehicle for the Japanese understanding of American Blackness."
Fast-forward to 2020, and the two worlds are more entwined than ever. Black artists are increasingly looking to anime for inspiration and collaboration, as BIPOC representation has become increasingly important to audiences and makers alike. A new wave of Black creatives are now in the genre, making space for diverse crews and characters. We spoke to some of these artists about their perspective on diversity in the industry today, and the influence Black creators are having on anime.
Through her writing on Black anime characters, But Why Tho? Podcast host LaNeysha Campbell provides Black audiences with valued resources for finding representation in the genre. Characters such as Berserk's Casca and Atsuko Jackson of Michiko to Hatchin, she says, make Black women such as herself feel seen.
"As a Black woman, I feel like our representation in anime has and continues to improve over the years. It is not perfect by far, but we are there, and it is getting better. While there are characters that I can claim as Black, that doesn't mean the anime acknowledges them as Black. But now I feel like we have a little more representation of characters confirmed or clearly identified as Black. It is important to me because, as a long-time fan of anime, I can't help but want to see a character that looks like me. In general, people want to see themselves reflected and represented in the mediums they love, respectfully. When our characters are made with that intention instead of stereotypical or racist caricatures, then it is a fulfilling thing to see."
The feeling is shared by Joshua Toussaint-Strauss, a video producer in the U.K. whose work for The Guardian charted black representation in the genre. "I guess I don't really expect to see myself represented in anime, because the shows I've watched over the years have so rarely included Black characters. So when I do see a Black character I'm instantly drawn to them. This might be partly why I grew to love Naruto so much, because it has quite a few respectfully drawn black and brown characters. Representation is incredibly important to me, but with anime, it's complicated by the fact that I have such low expectations for Black representation. I don't expect it, and I try to ignore the bad examples, because I don't want it to affect my enjoyment of the genre. But I think it has, to a certain degree."
Joshua and LaNeysha can point to examples that, unfortunately, show a negative side to anime's treatment of blackness. Characters such as Mr. Popo in Dragonball Z or Sister Krone in The Promised Neverland are regrettable examples where the genre has resorted to stereotypes and caricatures that, to Joshua, "evoke the racist tropes of the 40s and 50s."
"The worst examples of Black representation in anime are characters who are drawn with exaggerated features. This kind of imagery is incredibly hurtful for Black people. It's certainly not what a fan wants to see when watching their favourite show" he explains.
It is on today's animators, writers and industry leaders to avoid making the same mistakes. Studio Grackle founder Spencer Wan, puts diversity at the fore of his studio's philosophy. "Unless you make an effort to include, you'll unintentionally exclude. That's something I think many people in our industry could still take to heart," says Spencer, who is now heading his own studio. "But I do think it's getting better. I see more of a push for diversity than I ever have, especially from peers around my age, and we'll continue to push. I definitely intend to."
This push for diversity in anime could lead to better representation for its PoC audiences. "I would like to see a more proper and respectful illustration of People of Color in anime" adds LaNeysha. "I want to see Black features used on characters respectfully and not drawn as racist caricatures to make Black characters the butt of jokes. I'd like to see more real effort from illustrators when drawing, animating, and coloring various skin tones and shades."
She continues, "I think anime is making some great progress when it comes to diversity and inclusion. The fact that there are Black anime creators, more Black voice actors, and even a Black-owned anime studio in Japan like D'ART Shtajio is amazing! Additionally, western studios like Powerhouse Animation are doing great things to improve diversity in anime as well. All of this helps."
D'ART Shtajio, a Black-owned business, is the first American animation studio in Japan, founded by twin brothers Arthell and Darnell Isom. Having recently appeared in the music video for Jay Z and Pharrell's Entrepreneur, and after being featured in a leading lifestyle magazine, Arthell set some of his schedule aside to share his experiences. He was more than happy to talk about making it Big In Japan as a person of colour and an American.
As well as his own journey getting into the Japanese industry, Arthell explained the relationship between Black identity and anime, in a conversation that covered everything from Kung-Fu movies to Caravaggio. I ask him how it feels to be representing Black animators in a traditionally Japanese industry:
"There are new eyes on us. I feel a bit more pressure. We have to be more conscious of these things. Initially, we didn't think too much about it. 'Okay, we're American, and we're Black' or whatever. We were just making content and that was enough for us. But as we've gone forward, things like that change. People expect more things from you, and that affects the content that you make. I think initially we just wanted to fit into anime! But now we're trying to represent both things. We have to think about our own cultures, too, and make sure that representation is in there."
Diversity is benefitting from increased demand in western entertainment, and Arthell describes the Japanese landscape as being open to, but somewhat apart from that. Diversity and differentiation is more inherent in Japan, he believes, with a broader range of characters, themes and storyline than is found western or North-American animation.
"They're not closed-minded here. They're open to viewing anything really, particularly looking at the landscape of anime in Japan in general, there is just so much differentiation. The different characters featured, the different storylines they tell. So I feel like now, how diversity is being pushed in entertainment in general in the West, Japan is very open to that. They did Afro-Samurai and it wasn't a big deal for them. It's a story about an African-American Samurai and no-one was against it. There was actually a Samurai from Africa in Japan, I think he worked under Emperor Nobunaga. It's a really interesting story."
Having watched Tom Cruise play an American who earned the title of The Last Samurai, it was, perhaps, unsurprising to find out that fiction had overlooked reality. In truth, the honor had belonged to Yasuke, whose story at the time of this interview had been green-lit for its own anime series on Netflix. He was an African man who travelled to 16th Century Japan with Portuguese missionaries, becoming close to Daimyō Oda Nobunaga and eventually becoming his trusted Samurai retainer. Yasuke's story neatly foreshadows the cultural intersections, and sometimes mutual obsession, that would come to be between Black and Japanese culture. Netflix's production of Yasuke will be a harmonious meeting of the two worlds. The lead will be played by rising star Lakeith Stanfield (Sorry To Bother You, Uncut Gems) and the show is produced by LaSean Thomas, himself an important figure when it comes to the influence Black fans and creators have had on anime.
Arthell's own origin story is also fascinating. He opens up a little about what life was like and traces the roots of his creativity back to childhood:
"So I grew up in Patterson, New Jersey. My family was poor and I grew up like any other kid in an urban environment. But one of our escapes was drawing. Both my brother and I would draw from as early as I could remember. It was a way to get away, because we didn't have toys and things but we always had paper, not always sketchbooks, but like newspapers, you could draw on anything. So that was always fun. The cartoons I would've grown up with at the time would be the normal Looney Tunes and Warner Brothers, and so like everyone else in the West I really liked all that, and Disney and stuff. I was drawn to animation in general, and comic books. I was just into art and I wanted to get more into that world. The entertainment world I guess. The thing that switched me over to anime… I think if I hadn't watched Ghost In The Shell, I'd probably be in the western industry right now."
Arthell has made no secret of the influence that the 1995 cult-classic had on him, a film he says he watched almost every day on VHS during his college years. Ghost In The Shell, with it's dystopian atmospheres and cyberpunk background art, compelled him to look into who had created it, and how. Realising that the artist behind it was also the art director on other favorite anime titles, such as Last Exile and Ninja Scroll, Arthell set out on a quest to meet him. He sent letters, then emails, and eventually turned up in Japan in person to receive mentorship from Hiromasa Ogura, an experience he says was highly influential in his development:
"It was a great experience, I got to work with him and learn so much. He didn't care that I was Black, or American or anything like that. Of course it was a talking point. He's not blind! But it was never like, 'you can't be here.' He was super excited to work with me and he was interested that this American had come all the way to work with him in Japan. He couldn't speak English but he wanted to try to figure out how to make it possible to learn. I could speak Japanese but they still had the patience to speak slowly to make sure I could learn properly. It was a great experience. You should have a realistic idea of your heroes. They're not deities. I never expected more from Ogura-san than just for him to be a great artist who was doing great things. I just wanted to learn that and I gained a great friend from that. Not only did I learn to paint but I met my hero and gained a friend."
There are parallels between Arthell's own journey of mentorship by Hiromasa Ogura and the journey of a classic anime protagonist. In many ways he is the main character, voyaging to a distant land to learn a rare skill from the elusive master Ogura-san. It was during this mentorship that Arthell 'studied the blade', absorbing lessons and techniques in light, form and stroke to become an accomplished background artist.
"One of Ogura-san's major focuses is; he really feels like light and shadow is really important, so he really pushes his darks. Also, his colour palette is quite muted, he doesn't use bright colours where everything is pink and purple. That was one of the things that helped me gravitate towards Ogura-san because it was more realistic. One of my other favorite artists is Caravaggio. His whole movement was tenebrism which was also about light and shadow. I felt that there was a really huge parallel between their approach to art. For me, I think I try to do that as well. Having really strong darks, and really paying attention to how light affects things in the artwork. That's something that Ogura-san always impressed upon us, that light is really important, what does the light do?"
As Arthell was starting his journey in 1990s America, the anime landscape looked vastly different to how it does today in 2020. It was very much underground, as the internet was barely a thing. He explains; "at that time there was no anime on TV, so you would have to kind of be in the know about it already, to know to go and rent it from the video shops — and not all the video shops had anime to watch." Fans and followers of the culture would venture to Chinatown, or to niche videocades to find coveted Japanese anime videos among the pirated rap albums, bling and bootleg designer goods.
"There's always been these subcultural movements that happen between anime and black culture that are interesting. Kind of the same with Hip-Hop early on when that was all underground. In the black culture we had Kung-Fu movies, and we had anime, and it was all this underground thing. The black culture was really pushing that. I had a talk with a few of my friends and we were talking about why anime and Kung-Fu resonated with black people, and we came up with the idea that there's usually an underdog. Most have a theme that there's a weaker character who becomes stronger and then excels.."
He continues: "With black culture in general, from our history and where we came from – sometimes without a sense of culture or belonging – we are always trying to search for something, and do better, and do greater things. So I think we identify with the characters in anime and gravitate towards it. It's an escape. People find their favorite characters, see things through their eyes and see a better future. I think that's why anime resonates with our culture so much."
This uniquely black form of bildungsroman, a familiar underdog character overcoming disadvantages in order to ultimately succeed, may hold the key to the special appeal anime has to its Black fans. A collective compassion for underdog characters who overcome odds and prove themselves to be formidable, like the flamboyant Mugen in Samurai Champloo, condemned to a tough life by being born in exile — a character clearly drawn as being Black.
Joshua Toussaint-Strauss elaborates: "I think there's quite a few reasons anime resonates with Black audiences. Looking at narrative themes, there's the escapism, themes of loyalty, comeradery and persecution, and an abundance of non-white heroes. I would agree that there are a lot of parallels with black people's affections for Kung-Fu films which had similar themes."
LaNeysha Campbell agrees; "I think the appeal comes from seeing characters that might face discrimination, persecution, or challenges that have to work hard to overcome them. I am a sucker for characters that don't give up in the face of adversity, or an underdog that people doubt achieving the impossible, because I see myself in characters like that."
This appeal has led to a genuine courtship between anime and the Black community. Fan networks have exploded around anime cosplay, and Hip-Hop artists continue to give their co-sign to the genre. Back in March of this 2020, a viral video showed popular rapper Lil Uzi Vert in an Audi R8 that was customised all-over with vibrant manga print. The XO Tour Lif3 hitmaker makes no secret of his love for anime, citing it often in lyrics and making it a big part of his artistic identity. This crossover between audiences is pushing the worlds of anime and rap music into a healthy period of symbiosis. D'Art Shtajio's recent video for The Weeknd's Snowchild, led by Arthell, is the latest example of this bearing fruit.
"They approached us, presented the song and said that essentially this was what they wanted to create. It just went from there, we were just super excited to work with them. He's a massive artist and he has amazing ideas. We were trying to figure out how to get his ideas into it. The interesting thing was, of course The Weeknd is exploring lots of visual avenues with animation and his recent videos and stuff, but we were also concerned about his fans. We didn't know if all of his fans were anime fans, because the image is so different. We wanted to make sure that the thing that we created was something that his fans would like as well, and not be alienated by it."
Appealing to the star's lifelong fans, and bringing traditional anime into The Weeknd's musical world, known for being dark and brooding, presented unique challenges that the D'Art Shtajio team embraced.
"We had to do our research and try to figure out what the body of his work looks like, and how it feels, and yes, his work is often very dark. Trying to get that same feeling with the anime, which is something I really liked about working with XO [Weeknd's label]. One of our tenets here at D'Art is to make anime accessible to everyone, we really do feel like it's a genre and anything can be done within it."
 "In a way, it feels very validating to know that some of these celebrities and artists grew up loving anime just like I did" says LaNeysha, with words that will resonate with many of her generation of anime fans. "Whenever I hear an anime reference in a song or see streetwear influenced by an anime, I love it. While I think the popularity of anime has always been there, more people know about it now, and now they are sharing how it influenced them through their own crafts."
"It's one of the greatest, most sophisticated forms of storytelling in the modern age," adds Joshua, "so I think it's fantastic that anime is becoming more acknowledged as a serious genre in arts and entertainment, worldwide, and I love to see it referenced in popular culture."
This period of cultural crossover has Arthell feeling optimistic. "For us at D'ART Shtajio, we're excited about it and we really like it. Particularly with who we are, of course we love hip-hop, as well as everything pop-culture. For us, anime is a medium and I think it should be in all avenues of entertainment."