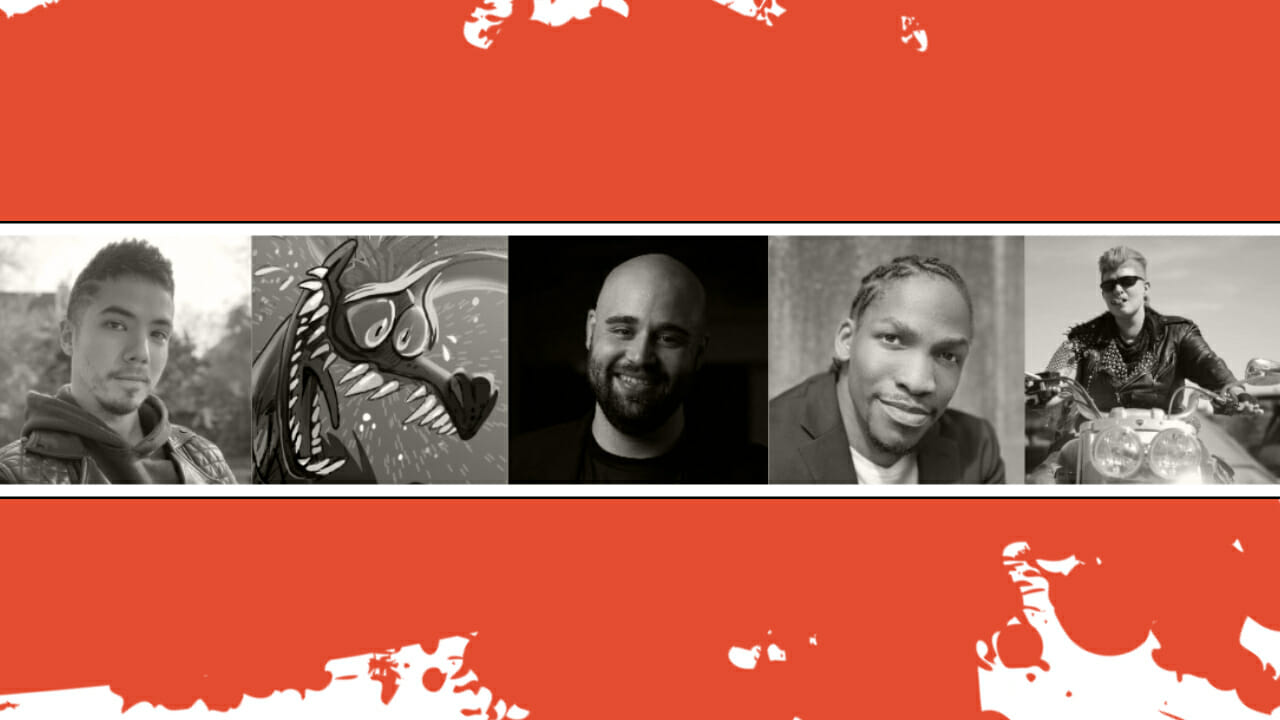 What is adult animation? The phrase has starkly different connotations from 'adult cinema,' and not everyone we have interviewed is a fan of the label. That said, this is a term that is widely used, both within the animation industry and among audiences, especially as the number of announced adult animated projects had doubled in 2020 over the previous year.
Because Harmony and Storyboard Pro are frequently used to produce adult animated projects, Toon Boom Animation wanted to better understand this expansive category. To make this information about our shared industry as widely available as possible, Toon Boom Animation sponsored the second edition of John Evershed's Adult Animation White Paper — which you can access here for free — and invited panels of creators and industry professionals to discuss emerging trends in the craft and industry live on Twitch.
This article is a brief excerpt from our live conversation this past March, with guests Arthell Isom (CEO & Art Director at D'ART Shtajio), Henry Thurlow (Production Director at D'ART Shtajio), Fable Siegel (Director on Lackadaisy: The Animated Short Film), Spencer Wan (Animator and Founder at Studio Grackle) and Kelly Turnbull (Assistant Director at Titmouse) discussing emerging trends in the audience, craft and industry. You can also find the full panel discussion embedded below.
Who are you and how would you describe your role in animation?
Fable: Hi, I'm Fable. I am the director on Lackadaisy: The Animated Short Film, an independently funded short that busted up Kickstarter last year. I've been working in the animation industry for about 10 years now, usually as a storyboard artist, but also animating or designing stuff. Most of the jobs that I have had have actually been in adult animated programming. The studios I've worked at have been boutique studios that do stuff for Adult Swim and Netflix, and that sort of thing.
The project that I'm directing on is farcical, historical fiction featuring rum-runners in the 1920s. And they all happen to be cats! The story was created by Tracy Butler, as a webcomic called Lackadaisy, and we're adapting it as an animated short. Basically, we're trying to make a pilot as a proof of concept that, hey, people are interested in this.
Arthell: Hi everyone, I'm Arthell Isom. I can introduce myself by saying that I am the CEO of D'ART Shtajio. It's an anime studio in Tokyo, Japan. At D'ART Shtajio, besides doing CEO things, I am also the art director and background artist. I have been in the anime industry for close to 13 years. Perhaps 14 years.
Kelly: Hey, I'm Kelly Turnbull! I've been working since about 2008. In the animation studio system, I do a lot of jumping back and forth between adult primetime shows and kid's toy shows. I've done pretty much every phase of the pipeline and kind of settled into storyboarding, because that's my favorite part of it. I'm currently assistant directing on a new series at Titmouse — that I don't know how much I'm allowed to say about! Yeah, and then just doing a whole lot of character design work for pitches that are happening behind-the-scenes that I'm absolutely not allowed to talk about.
Henry: Hey, I'm Henry Thurlow. I was originally a Flash animator in New York. I moved out to Japan 12 years ago or so. I've been working in the Japanese anime industry, first as an in-between animator and then just slowly up to the different levels: secondary key animation, key animation. As far as the adult animation kind of series I've worked on, there's Tokyo Ghoul, Attack on Titan, and Given, which is a fairly adult-like drama kind of show.
Now I am a director at Arthell's Studio, D'ART Shtajio. We worked on the Sturgill Simpsons' Sound & Fury anthology on Netflix. Our studio did two of the segments there. Arthell and I both wrote and directed one segment each. I work on projects like that now, and still help out with animated productions that other studios are producing, like One Piece.
Spencer: I'm Spencer Wan. I'm an animator, and I own a small animation studio called Grackle.
What does 'adult animation' mean to you broadly, and how would you describe the kinds of projects that you are most excited to work on?
Spencer: Broadly, to me, I suppose it would just be anything that has themes in it not made for children. And I don't just mean like dark, you know, edgy themes. It could be anything from like, dealing with college, to having your marriage fall apart. Anything that would tackle something that it just you know, isn't for kids.
For projects I'm most excited for, I guess I'd like to see how this movie I'm working on comes out. I'm currently on Spider-Verse 2.
Fable: I'm really looking forward to that one! Spider-Verse was amazing. I felt like that was a good mix between stuff that's very relevant to kids, but also a lot of it was very much about being a tired millennial who's just exhausted, and how do I help younger kids? I really liked that. It did a good job of being relatable to like a broad set.
You're saying that you identified with Peter B. Parker?
Fable: Yeah. Sloppy, depressed, eating pizza in the shower? That sounds relatable to me. I just wish I had the superpowers too!
Would you agree with Spencer's description of adult animation?
Fable: I would love to see more adult animation that's willing to take on stuff that you just don't encounter when you're a kid. Or just doesn't even occur to you to be that important when you're a kid. As you get older, some of the stuff that you deal with, and the kind of stories that you need in order to keep going are not going to be the same as when you were a kid. I'll watch kid shows, but the older I get the lighter it feels when I watch that stuff.
And I'd love to see more: More stories that tackle the kinds of things that I'm used to dealing with like, either when I was in my 20s and my 30s — or folks older than me — also talking about their experiences. Sometimes you can get that in animated interview-type stuff. Sometimes there's sort of slice-of-life stuff, but I feel like, you know, sometimes the adult animation animated comedies that I watch still try to keep the material pretty light, so that it's still accessible to kids.
And then there's always kids in these adult animated sitcoms. It's always supposed to relate to them to some degree. So you kind of are limited in the kinds of stories that you can tell, because if it's also supposed to be accessible to kids, but then what aren't you allowed to say as a result? What kinds of situations do we deal with as adults that you just can't talk about in front of children, without talking around it a little too much? It would be nice if we could be a little bit more direct sometimes about some of the struggles we go with, especially when it comes to harder subjects like mental illness, dealing with health problems, dealing with systemic issues.
Arthell: I agree with both Spencer and Fable. I guess the only thing I'd add is: There's this space where the stories that Fable was describing exists: That's live action. And I feel that adult animation could tell the same exact stories that live action is telling, just in the animated format, and that would be adult animation.
Kelly: I think the biggest thing that defines where the line is drawn is just how much S&P is riding your ass. If they're concerned about: "Is every character wearing a seatbelt?," "Are they all wearing a helmet where they're doing something dangerous?," "Are they doing anything that a child could try to imitate?" Then you're probably working on a kid show.
But as the stuff that was formerly classified as nine-to-14 is drifting more into the Adult Swim space. I think you're seeing those kinds of lines blurring. Like, J. G. Quintel's Regular Show? In Close Enough the sense of humour is very similar. I think that if Regular Show was made 10 years later then it would have been one of these HBO Max adult shows.
When you're looking at kid's shows, everybody's looking for six-to-11 stuff. So you're either pitching things for six to 11 year olds, or you're pitching things for this older audience.
For things that I'm excited about, there's sort of this 30-year cycle in culture, where people who grew up with something want to bring that back and share it with the next generation. I think we're starting to hit this era where people who kind of grew up with like, the '90s X-Men, G.I. Joe and all these very comicbook-style shows now want to make that.
Over the last handful of months, I have been tapped to do character lineups for like, five different pitches, because everybody's saying: "We're trying to make this kind of modern G.I. Joe style." I think part of it is that space that The Venture Bros. left. Everyone wants to be the next The Venture Bros.
Henry: I think what adult animation is… I think you'd have to ask everyone individually, kind of, because I imagine there's a lot of different definitions for that. Even I am torn a little bit. Since moving to Japan, people accept animation here a little bit more widely than they do in the West.
It's changing now, but I don't really have to have this conversation because it's almost equivalent to film, you know? People don't ask, "Are you into kids live action or adult live action?" That sentence just doesn't exist, because a lot of the things that I used to think were adult animation when I was younger, now I see as.. It's just a teen show, right? With ultraviolence or something like that. Right?
Don't get me wrong. I love those shows! But back when I was younger, I would have called Dragonball Z adult animation: "These guys are really fighting and they kill each other! You don't get it: They're dead." And you know, there's blood spraying out of the guy's chest and stuff and they chop each other's arms off.
Fable: 'Dead' until they're not, anyway.
Henry: Yeah, and then they revive. But now, I kind of recognize that it's more of a teen show — that I can still enjoy as an adult — but with blood so the kids thought it was super-edgy. If someone wants to argue that it's adult animation I wouldn't argue against it, but animation like that is definitely different than adult animation like Ghost in the Shell. Ghost in the Shell is a dead serious political sci-fi thriller.
So, what is adult animation? Is it stuff that just gets the R-rating because of content? Or is it stuff that a kid couldn't watch because the content is something aimed truly at adults. Now that I'm older, I kind of lean towards that definition. Like, is the content something that a kid can almost not enjoy? It really is something like you need to be an adult to appreciate it ? That's kind of what adult animation is now.
---
Toon Boom Animation is proud to sponsor the second edition of John Evershed's Adult Animation White Paper to make information about our industry more widely available. You are invited to download the PDF for free through the link below.