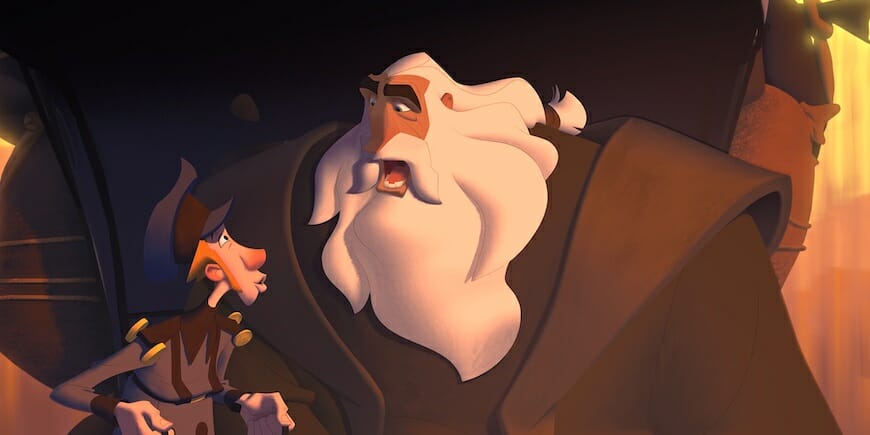 Top Animation News is a weekly column that rounds up the biggest, best and breaking stories from the animation industry. This edition covers October 4 to 11, 2019.

1. Netflix's Klaus gets its first official trailer
Sergio Pablos' highly anticipated holiday film Klaus will be Netflix's inaugural original animated feature, and its first trailer shows off the incredible hand-drawn style The SPA Studios was able to achieve using Toon Boom Harmony. It stars J.K. Simmons as the titular character and Jason Schwartzman as Jesper, his postal-working partner in bringing joy to children in the unhappiest place on Earth. Christmas will come early this year, with Klaus set for release on November 15 on Netflix.
Watch Netflix's Klaus trailer above and read more about it on Entertainment Weekly.

2. The Rick and Morty season four trailer is also here
Adult Swim released the trailer for Rick and Morty season four, with the first five episodes set to hit the airwaves on Sunday, November 10; the second block will come out in 2020. Fans have had to wait since 2017 to see new inter-dimensional sci-fi adventures with sociopathic genius grandpa Rick and anxious, average grandson Morty. However, series co-creator Dan Harmon recently noted, "I think it's safe to say without fear of being wrong that the gap between Seasons 3 and 4 will be the longest and last time that it's ever so long that it's ridiculous. I don't know how fast we can do it, but I know it will never be this long again."
See the Rick and Morty season four trailer above and read more on Gamespot.

Source: The Animanicast Twitter
3. The original Animaniacs cast is coming back for the revival
It's been a few years since Steven Spielberg and Hulu announced they would be rebooting classic 90s cartoon Animaniacs, which will roll out sometime in 2020. Now, fans have another thing to look forward to: the original voice cast will be returning for the revival, including Rob Paulsen as Yakko, Tress MacNeille as Dot and Jess Harnell as Wakko. Hulu has already announced they have given Animaniacs a two-season order.
If you think it's time for Animaniacs, find more details about the reboot on Entertainment.ie.
4. Six women directors reflect on DreamWorks Animation's 25th anniversary
DreamWorks Animation launched in 1994 with the Oscar-nominated The Prince of Egypt and it has gone on to a release 38 features including hits of biblical proportions like Shrek, Kung Fu Panda, How to Train Your Dragon and many others. The studio has also built a legacy of promoting women into leadership roles including Lorna Cook, Vicky Jenson, Elaine Bogan, Jennifer Yuh Nelson, Brenda Chapman and Jill Culton, who each share about their time at DreamWorks over the last quarter century.
Read about these women behind DreamWorks Animation on Variety.
5. Netflix is feeling Ghee Happy about its Indian ambitions
As Netflix aims to grow its subscriber count in international markets like India, it is producing more original content appealing to global audiences. It recently greenlit Ghee Happy, a new preschool series from animator Sanjay Patel (Sanjay's Super Team, Cars) that follows Hindu deities like Ganesha, Saraswati and Kali as they discover their powers in daycare. It will be produced by Netflix's animation studio in Hollywood.
Dig into the Ghee Happy details on The Los Angeles Times.

6. How Giulia Martinelli and Marta Gennari decanted MERLOT with Harmony
MERLOT was the graduation film of Giulia Martinelli and Marta Gennari from the CSC National Film School in Turin, Italy — though it has gone on to win numerous awards, including a Staff Pick from Vimeo. The short beautifully uses sound design and a carefully selected palette of flat colours to bring the Little-Red-Riding-Hood-meets-red-wine story to life through unique panels. "Since the storytelling is based on connected events and how different situations interact with each other, it was crucial for us to be able to show at the same time different locations and characters. The idea of the panels, and the fun structure of the entire film was the perfect solution," they tell Toon Boom.
Sip the full MERLOT interview on the Toon Boom blog.
7. Ubisoft expands further into animation
French video game company Ubisoft is adapting more of its popular titles into animated series for all ages. It's starting with a Rabbids Invasion special (note: the IP has had four seasons on Netflix and Nickelodeon) and is working on family-friendly cartoons based on Rayman and Hungry Shark. It's also got a Watch Dogs-based series aimed at pre-teens as well as adult content including Captain Laserhawk: A Blood Dragon Vibe from producer Adi Shankar (Castlevania, Devil May Cry).
Plug into all the Ubisoft animated series details Polygon.

8. Weathering With You gets a US release date and new trailer
Japanese director Makoto Shinkai's 2019 anime blockbuster Weathering With You will come out in North American cinemas on January 17, 2020. Distributor GKIDS announced the release date via a new English-subtitled trailer. Weathering With You is the spiritual success to Shinkai's record-breaking animated feature film Your Name, with both films planned in Toon Boom Storyboard Pro.
Get drenched in the Weathering With You US release details on Comicbook.com or read our interview with GKIDS president David Jesteadt on the Toon Boom blog.
9. Sylvain Chomet's French animation SChool will teach in English
French director Sylvain Chomet (The Triplets of Belleville, The Illusionist) is launching his own animation school in France, which will be called the Sylvain Chomet Animation Academy — The SChool. It'll initially offer a three-year program and will be the first in the country to teach courses in English. Its curriculum will emphasize traditional 2D animation, with Chomet educating students in the principles of movement in their first year followed by digital tools in their second and a graduation project in their third.
Study up on Sylvain Chomet's French animation SChool on Cartoon Brew.

Source: Netflix
10. Masaaki Yuasa to direct Japan Sinks anime for Netflix
Netflix announced that Devilman Crybaby director Masaaki Yuasa will helm an upcoming anime adaptation of Sakyo Komatsu's Japan Sinks sci-fi novel. The 10-episode first season will debut on the streaming platform in 2020, with the storyline follows a family trying to escape Japan as the country faces natural disasters that could literally sink its islands. Yuasa will oversee the Japan Sinks anime at his Science SARU studio, with Pyeon-Gang Ho named the series director.
Escape to the Netflix Japan Sinks details on Anime News Network.
What Top Animation News were you most excited about this week? Was there something we forgot to mention? Let us know in the comments below!
Banner image source: Netflix