Do you dream of having a storied career in storyboarding, but aren't sure where to start?
Storyboard artists are a crucial part of any animated production. They translate a script or concept into visual storytelling, and convey important elements of the film or episode's narrative, from the basic plot points to expressive gestures and emotions. A storyboard then guides the production team through the pipeline, serving as a reference point throughout.
We caught up with several story artists to learn about their experiences in the industry. We asked how they ended up in storyboarding, how they define the role, what they enjoy most about the craft, and where a career in storyboarding can lead. Read on to be inspired by the experiences of 6 talented artists!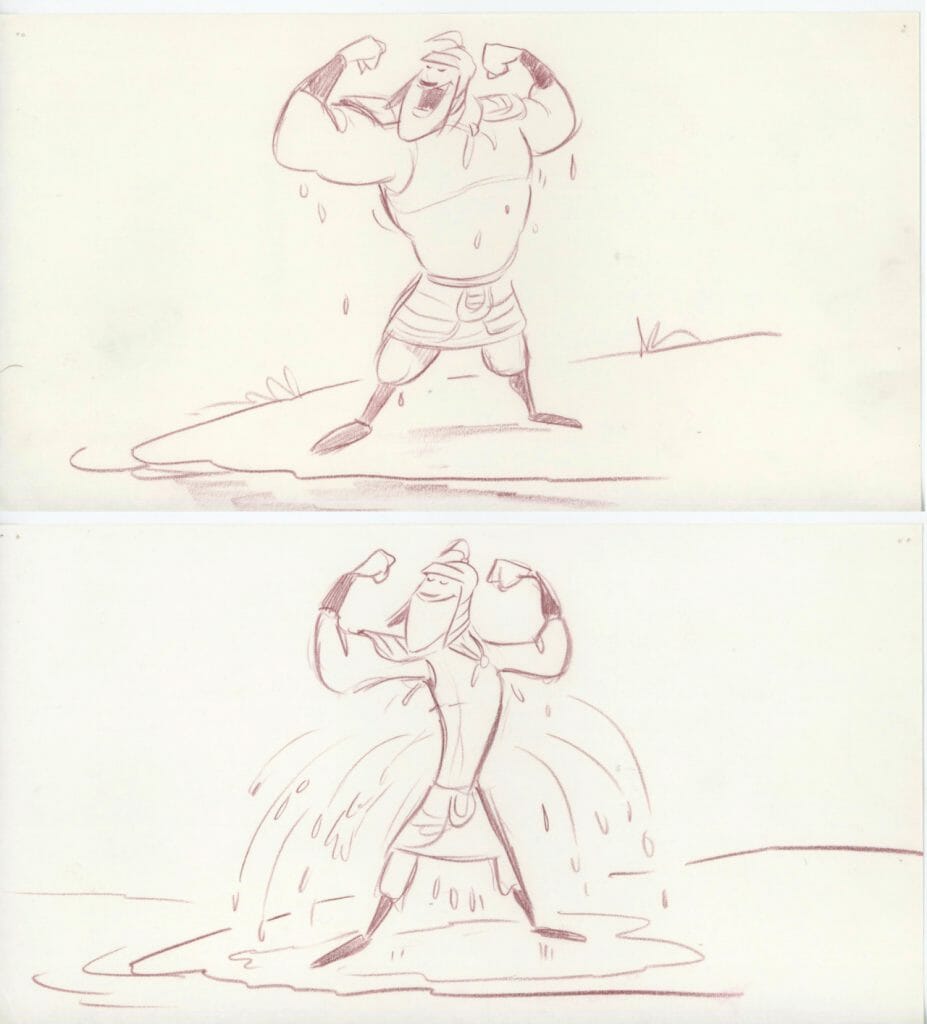 Tim Hodge: "I started my animation career in commercials, where I animated, drew storyboards, painted cells, and [did] just about every other role in production. When I started at Disney, I focused on being an animator, but kept gravitating toward story. My story suggestions for Trail Mix-Up (the 3rd Roger Rabbit short), caught the attention of director Barry Cook, so when he started developing Mulan he gave me the opportunity to join the team."
"Story was a better fit for me, so I stuck with it, and have been doing storyboarding ever since. I just found myself drawn to it. I love the magic of animating, but creating a narrative is a special wizardry that surpassed my love of making drawings move. As a storyboard artist, I am part director, writer, animator, layout artist and editor. It is a story artist's job to bring the script to life, not merely illustrate it. Simply choosing the right camera angle has a huge impact on a shot. Understanding that nuance can make a story intriguing to an audience, or bore them. So, a story artist's role is super important. It's a tough job, but I love it. And in terms of career path? In my case, I climbed from story artist to director!"
You can see Tim Hodge's work here.

Raha Dabiri: "As a kid I watched (and preferred) animated films. I found them really inspirational, and understanding how and why the stories animated films told came to be was fascinating to me. What's better than making people feel things through film?! Especially one that's as visually stunning as an animated film! Now, I'm on my first gig. I am working as a storyboard revisionist on Jurassic World: Camp Cretaceous. So far, it's been an amazing experience."
"Storyboard artists have a lot of responsibility. They aren't only clearly depicting the script they're given, but also following the limitations and requirements of character models and sets/backgrounds in their drawings. Storyboard artists need to be able to collaborate and be in communication with their director, as well as other story artists on their team. And, it is critical that their work completed and turned in on time. Story artists have a lot of career flexibility, but will usually grow into directors or executive producers! Sometimes you'll find them becoming the executive producers of a show that they've pitched and gotten green lit themselves."
You can see Raha Dabiri's work here.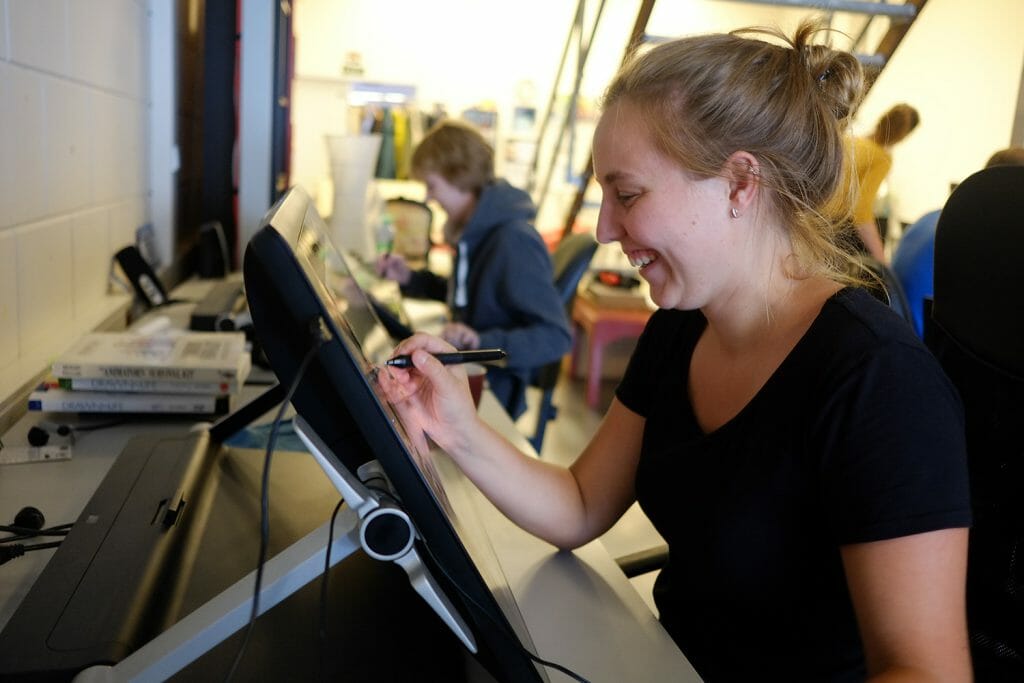 Lieke Wouters: "When I was in art school, I didn't really understand how much of a film or episode is dependent on a good storyboard. It really became clear to me when I started working in a studio with a team of people. I first experienced this when I got an internship at Anikey Studios. I started as an animation intern, but I quickly branched out to other things like compositing, rigging and also storyboarding."
"Honestly, becoming a story artist wasn't really ever planned. While in that internship, a producer I crossed paths with asked me to test for a storyboarding role on an upcoming show she was producing. I did a test and got the job. Since that first job, I've worked mostly as an animator with storyboarding gigs on the side.I really enjoy my storyboarding gigs because I get to be the person to visualize what the story will look like, which is really cool. As you can see from my path, the sky's the limit with a career in animation. You can truly grow from an intern into anything from a rigger to compositor to creative director, or story artist."
"The best way I can describe the role of a story artist is that you are the cameraman, the actors and the set designers all at the same time. Your job is to create a rough but clear path for the animators, background artists and other people on the production to use as a guide to create the final image. It's important that, based on your storyboard, the director can envision what the final product will look like, and whether it aligns with what they had in mind. Making a storyboard is challenging, but it's also like a big playground where nothing visually is quite set in stone yet so you have room to play around and experiment!"
You can see Lieke Wouters' work here.
Michael Moloney: "I've been a storyboard artist, director and animator since 2006. My first two jobs were storyboarding, however I was so green I didn't enjoy it. So, I changed roles and worked as an animator at Titmouse Inc. for a couple years. Eventually I moved back to storyboarding and directing which I've been doing since. When I made the switch back, I felt like my animation chops gave me some solid insights that helped me in storyboarding and directing."
"Storyboarding is important because you have such a big impact on the entertainment aspect of an episode or film. I really enjoy the problem solving aspect of it: finding the right shot that will save an animator a walk cycle while looking good. When I switched back to storyboarding I also knew it had a higher ceiling, meaning that I could earn more down the road than I would as an animator. And, it comes with the potential to become a director or showrunner."
"As a story artist, your job is to read a script or outline and create the visual blueprint for the rest of the pipeline to follow. You want your boards to be fun and tell a compelling visual story. On the technical side, your job is to include enough information for the animators so that they can interpret your drawings. If your staging doesn't make sense then the art director might have twice as much work because of the extra backgrounds. It's an important role because the story artist's choices create far reaching ripple effects."
You can see Michael Moloney's work here.
I finally storyboarded up a trailer for our @DoigSwift YT channels!
It was a lot of fun to blow off steam with a simple and goofy sequence for #feboardary. Next up… Animating it on our morning streams!

Thanks to @ebbigal for the feboardary challenge! pic.twitter.com/4BskAmWo8Q

— Old Swifty (@OldSwifty) February 28, 2021
India Swift: "Throughout my animation industry career I've been bouncing between roles as an animator and storyboarder. The first time that I really honed in and focused on boarding was during my time directing TWRP's Starlight Brigade music video, with the Knights of the Light Table. That was the first project where I boarded more than I animated! Since then, I have had the pleasure of boarding on the Rise of the TMNT Netflix movie, and I'm currently working on Nickelodeon's new Transformers series!"
"I've always been drawn to storyboarding because it feels like pure storytelling. Storytelling and acting is what I love about animation, but with animating you're often focusing on a specific emotion in detail. With storyboarding, you're focused more on the big picture of the story. Learning and understanding how a sequence comes together, how to pace scenes to create the atmosphere you need, how the compositions create subtext or communicate."
"In my mind, the main responsibility of a story artist is to deliver the vision of the director. It's the artist's job to make sure they understand what the directors want to convey and then create a storyboard that reflects what they are going for, while fitting in the style of the production. It's also important for storyboarders to always think about the rest of the pipeline, because the work a story artist does will impact those who follow. For example, it's key to keep your file clean for any revisionists or other boarders who may have to jump into it – responsibilities like these, while not glamorous, show respect to the rest of your team and make for a smoother pipeline overall."
You can see India Swift's work on Starlight Brigade here.
Ivan Freire: "When I started my career here in Brazil, storyboarding wasn't so common as a distinct position in the studios. Instead, animators and people in character design would be encouraged to storyboard, as a sort of combined role. This is how I ended up getting started with storyboarding. Since then, I have worked in many various positions."
"As a storyboard artist, I've worked on some cool stuff like Historietas Assombradas, As Microaventuras de Tito e Muda, "Irmão do Jorel, Tito and the Birds, and Oswaldo. Now, I'm creating my own project, a Sport RPG game named Dodgeball Academia. This one is being made in partnership with a game studio here in Brazil. Aside from that, I freelance as a storyboard revisionist for Cartoon Network."
"I'd say that the main role of a storyboard artist is to drive the script down the right path, with guidance from the production's director. The storyboarder is responsible for both respecting the script and outlines, but in balance with their own insights and creativity. Ultimately, story artists are in charge of the way that a film or episode communicates to the audience."
"There's no rule about the career path that a story artist can take, but the natural path is usually to go from being a revisionist, to story artist, to episode director, and eventually a director or showrunner. But this isn't set in stone. I know some story artists who jumped into script and changed their paths, and I know character designers who are creating their own show."
You can see Ivan Freire's work here.
---
Interested in trying your hand at storyboarding? Storyboard Pro is where every great story begins. Download a 21-day trial and get started with our free introductory tutorials.