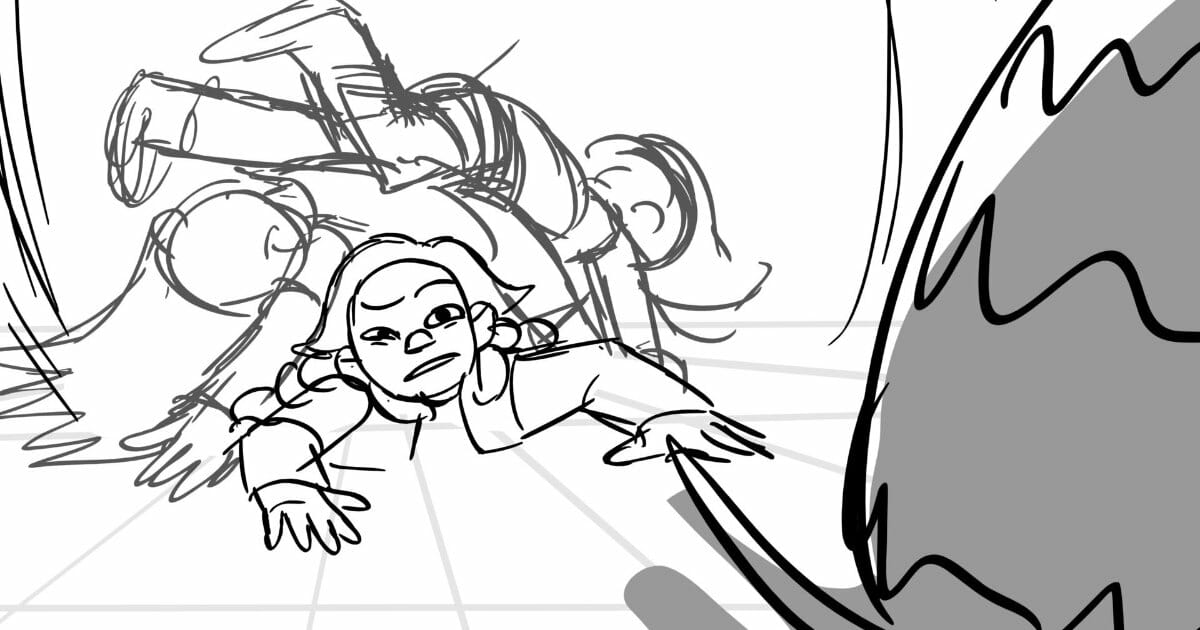 Abigail Lee posted on Twitter using the hashtag #Feboardary to announce a month-long challenge for storyboard artists. In that Tweet she shared five ways to participate in the challenge, complete with prompts for storyboards. Artists can also use the hashtag, which combines the words 'storyboard' with 'February,' to share their work throughout the month.

Abigail is a recent graduate from The Savannah College of Art and Design (SCAD). She graduated in 2020, in the middle of pandemic lockdowns. Because of this, her entry into the animation industry hasn't been as seamless as she expected. Abigail says she created #Feboardary so that story artists could actively practice storyboarding and connect with each other online.

We spoke to Abigail about what inspired her to create the #Feboardary challenge and what she hopes it will bring to the storyboarding community. She shares a bit about her own storyboarding process, and advice for artists who are new to storyboarding. Read our interview below!
Can you share with us your background as a storyboard artist?
I studied at The Savannah College of Art and Design (SCAD), and graduated last year. The storyboarding classes were my favourite ones during my program. I enjoyed them so much that while at SCAD I started a storyboarding club with my friend, Lee Onysko. The club was dedicated to sharing resources and tips about storyboarding, as well as insights and advice from industry professionals. Occasionally, we had the opportunity to interview industry professionals for the club! For example, we organized a series of talks focusing on different marginalized groups. These included Women, POC, and LGBTQ+ story artists in animation.

It was really fun to see how the club got so many students, including myself, excited about storyboarding. It helped to foster a community around the craft at SCAD, and it showed us that there is a strong community of story artists within the industry. By the time I graduated from SCAD, I knew that storyboarding was a career that I could really see myself doing.

I graduated in 2020, which was an interesting time since it was in the middle of the pandemic. There was no graduation ceremony, and I cancelled my plans to move to Los Angeles because of the lockdowns. Since graduating, I've done some freelance commissioned work while actively applying to jobs and networking. With everything online because of the pandemic, it's a tough and discouraging time to be applying for industry work.

In the meantime, I've been making a podcast with my friend, Arielle Guevara, called Hey Hire Us, where we interview unemployed friends about their job searches. This project, as well as #Feboardary, are both helping me feel like I am part of the animation community. Working on them keeps me feeling productive despite being unemployed.
What do you love most about the craft of storyboarding?
All my storyboards are based on personal experiences. For example, I have a board that is about two girls who are coming up with creative ways to stop a nosebleed. It's based on one summer of my own life, when I had random nosebleeds every single day.
I find that by placing myself in the stories, I can create relatable scenarios and relatable characters. This makes me feel very connected to the medium, and I think it helps viewers connect to the stories, too. The other thing I love is that with storyboarding you can tell engaging stories without actually having to animate. With an animatic you can still express emotion and draw viewers into the story.
Can you share with us a bit about your storyboarding process. How do you approach storyboarding?
As much as I love storyboarding, I do still struggle with it at times. Right now I'm working on developing a boarding process that works for me, which means I'm doing lots of experimentation. My process generally is that I start with a basic idea. I write that idea down, and build an outline around it so that I have a broad story to work with. If I think of dialogue ideas I'll add them to the outline, but usually I think of dialogue on-the-fly as I am drawing the boards. From there, I thumb it out, followed by a rough pass, and my final clean pass.

Thumbnails are the hardest part for me with storyboarding. I'm still trying to find the approach that works the best for me. I know some artists will thumb using note cards or sticky notes, and others do it digitally. There are even artists who don't thumb at all and instead go straight to rough. I've been experimenting with these different approaches. Hopefully I will land on the one that works for me soon!
Tell us about #Feboardary! What was the idea behind it?
#Feboardary is a storyboarding challenge that runs through the month of February. Any artist can participate in it by posting their work on Twitter using the hashtag #Feboardary. At the end of January, I shared on Twitter the five different ways that artists can participate in the challenge. I wanted #Feboardary to include a range of ways to participate so that it didn't burn anyone out, and it was accessible to everyone in the story artist community.

I tried to make the challenge broad enough that it can be approached in a multitude of ways. For example, one of the ways to participate is to create a 3-5 panel sequence every day of the month, based on provided prompts. This challenge will keep you busy! But you can also participate simply by sharing advice, tips, or stories from the industry. If you post just one thing in the month of February, congratulations! You've participated in #Feboardary.
What inspired you to create #Feboardary, and what was your goal for the challenge?
Last fall I was going through a period of art block. I think it was because since graduating from SCAD and starting my job search I've sometimes felt powerless. I do know that I have a place in the industry, but my break hasn't come yet. So around November, I started thinking about how I could find motivation and support within the story artist community.

I've noticed that on social media artists will share completed animatics or portfolio links, but they don't often share their work in progress. I thought that a challenge that encouraged artists to share their work, at every stage, would be a way to create a supportive community. I wanted people to feel comfortable sharing their thumbnails rather than a polished animatic.

By sharing our work at different stages we could all inspire and motivate each other, and share our tips and knowledge. Although I had the idea for #Feboardary in November, I didn't decide to actually do it until January. One evening in late January I sat down and brainstormed the specifics of the challenge. I posted them to Twitter that same night.
How has the response to the challenge been, and what have you been learning from it?
I didn't expect the challenge to take off like it has. Checking the hashtag every day to see what new work has been posted has been such a joy. It's also been really cool to see how different people are approaching it. I've also been happy to see industry artists using the hashtag to share their personal advice with the community.

One friend of mine, Tyler Washington, is doing an animatic every single day! My other friend, Caleb Blue, is working on a longer sequence, and sharing progress updates as he goes. Seeing the different ways in which artists approach their work is inspirational, and it also opens up active conversations about storyboarding approaches and processes.

#Feboardary has shown me how accessible storyboarding is. Some of the people participating have formal education, and others are completely self-taught. The challenge really demonstrates that anyone can access this medium. Even if you create just a few panels, you are a story artist. The challenge has also reinforced how inviting the storyboard community is. I've loved watching how #Feboardary is encouraging artists to share knowledge and connect with each other.
What is one piece of advice about storyboarding you'd like other artists to know?
The best way to become good at storyboarding is to storyboard. I often have to remind myself of this! Sometimes I feel art blocked or I feel a bit of imposter syndrome, and those feelings can be very unmotivating. In moments like these I remind myself that I need to just do it. And if the storyboard doesn't turn out perfectly that's totally okay, because then I can learn from that boarding experience.

I think that it's only by actively storyboarding that you can identify your own weaknesses. When you examine your own work, you can pick up on bad habits and address them. And that's important, because it creates space for you to grow as an artist. So, keep boarding! Even if you're just putting together simple or short boards, that practice will benefit you.
Can we expect to see the #Feboardary challenge in 2022 as well?
Absolutely, I plan to continue sharing the challenge every February!
---
Interested in following more artists participating in #Feboardary? Abigail Lee recommends seeking out Caleb Blue and Andy Garner-Flexner for examples of artists working on one long sequence, Tyler Washington, Scorch, and Gabrol for animatics inspired by daily prompts, as well as Georgia Gilbey, Rambu and Nikky Dash for short sequences. Other resources include advice threads from Bianca Ansems, Kathy Liu and Zebirdbrain.