Freddie Mercury was many things: a flamboyant fashionista, an ostentatious public personality and the larger-than-life frontman of legendary British rock band, Queen. Paradoxically, he was notoriously private; the singer had contracted HIV/AIDS during the heat of the 1980s crisis and lived with it for years, though he could no longer deny how ill he was by the early 90s. On November 23, 1991, Mercury issued a statement announcing his status and calling on the world to join him in fighting the disease — he passed away the next day, aged 45.
Though Mercury has been gone for nearly three decades, his rallying cry against HIV/AIDS lives on. Following the success of the Bohemian Rhapsody film and in celebration of what would have been the vocalist's 73rd birthday, a 2D animated music video for his solo single Love Me Like There's No Tomorrow was released on November 24, 2019. Proceeds from the song supported The Mercury Phoenix Trust, a charity founded in Mercury's memory.
The Love Me Like There's No Tomorrow music video was conceptualized, produced and directed by Esteban Bravo and Beth David. Queen's label, Universal Music Group (UMG), reached out to the creative duo last March after seeing their viral LGBTQ animated short, In a Heartbeat. When speaking to the band's managers, Jim and Tilda Beach, the pair wanted to get as much information about what Mercury was like in order to envision the music video.
The directors are lifelong fans of Mercury and Queen, and identify as members of the queer community. "As LGBT people, seeing someone as legendary and revered as Freddie Mercury —so proud and flamboyant and unashamedly queer— is incredibly inspiring. He was so unapologetically himself," says David.
For Bravo, Mercury's music took on added relevance as he became more comfortable with his sexuality, "My mom was always a big fan, but for me Freddie was a bit of an abstract figure until I came out in college — it put all his music into context. It helped me a lot in my whole coming out process. As we were doing [Love Me Like There's No Tomorrow], we looked into the 80s and Stonewall and the history and felt so much appreciation for what [Freddie] has done for visibility and acceptance; he helped change minds about LGBT people."
After researching the science behind HIV/AIDS, Bravo and David envisioned a gay love story between two white blood cells. After one of their protagonists contracts the virus, the video depicts their subsequent struggles — with each other, society and the disease itself, all styled in the 1980s garb as a nod to the crisis and Mercury's own life.
"We knew early on that we wanted to do a story on HIV, but it was only after researching the science of it that we decided to look at it from the point of view of the blood cells — to personify the spread of the disease," says David.
They needed to research HIV/AIDS in order to represent it — what it is and how it works. They poured over expert websites, podcasts and blogs catered towards people who have been diagnosed, learning both about what it was like during the outbreak of the 1980s crisis as well as the modern day.
"It was really hard to represent what the process of being infected by this virus was like, and what this virus does in taking over and debilitating your immune system until it impacts the T cells and then reproduces within the T cells and then kills the T cells. Even though that's at a microscopic level, we wanted to represent what the disease does to the body," notes Bravo.
Though they both specialize in computer-generated animation, Bravo and David knew from the beginning that Love Me Like There's No Tomorrow should be done in 2D. With production starting in May 2019, this allowed the directors and their team of 12 animators to create the music video in three months — on top of their full-time gigs at Blue Sky Studios in New York City.
David says, "Our 2D animators did absolutely breathtaking work; we're really happy with everything we got back from our artists. I think working in 2D allowed us to do more because we didn't have to worry as much about the technical side of CG."
The results were as bold, brave and beautiful as Mercury himself, explored through an evocative depiction of an authentic gay love story. Though the two main characters are T cells, their relationship and challenges are undeniably human — and heartbreaking. By leveraging animation's ability to suspend reality and create powerful visual metaphors, the directors produced something that could not be realized in live-action.
With animation, you already focus much more on the idea of a certain situation rather than the reality of it. In our case, the notion of the virus can be simplified into this little particle that's taking over our main character's lover's body. By putting it into such simple, primal terms, it is felt so much more loudly than it was in a live-action setting — without using words and being universally understood.

Esteban Bravo
He continues, "We wanted to develop a metaphor for what HIV and AIDS does. We created this whole world of what the inside of a blood vessel would look like and a story between two white blood cells, and we gave them human shape, form and emotions. The power of that imagination and the ability to stylize it is what elevates the medium."
One of the most powerful elements of Love Me Like There's No Tomorrow is its happy ending. (SPOILER: both characters have long, loving lives together.) Transforming the characters from young blood cells into older humans, this is a departure not only from Mercury's life, but from the narrative that often surrounded HIV/AIDS during the crisis of the 1980s and 90s: that having the disease was a death sentence. This was a touching tribute to the fighting and suffering many had to and continue to endure, as well as further helping to de-stigmatize living with HIV.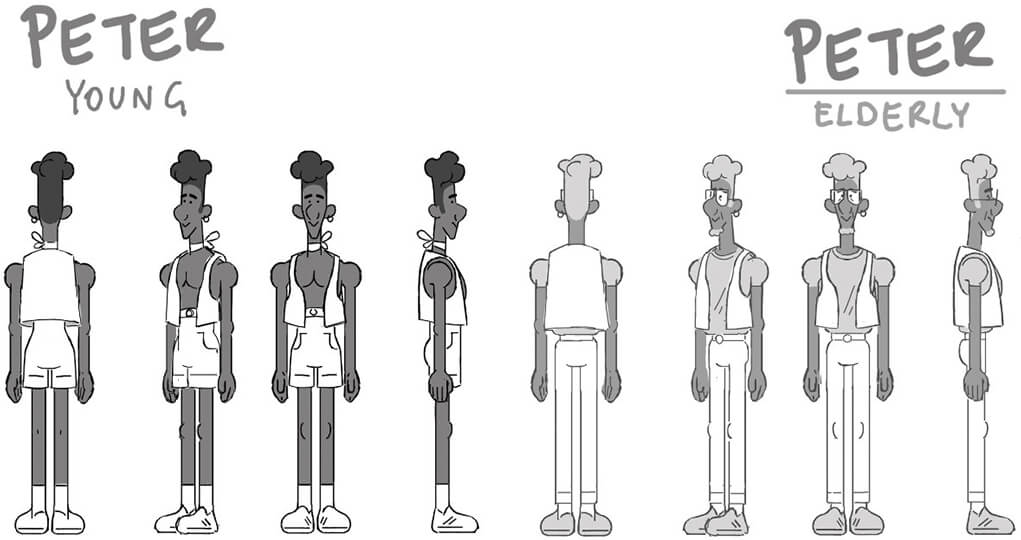 "That was our intention from the beginning: for this to be the happy ending that a lot of people from the era didn't get. Together, through their fight and love of one another, they were able to overcome the disease," David tells us.
"The human versions were the real versions and we wanted to be able to show them in the present day. Hopefully people would connect with that. There's a small detail that grounds it in reality: they're both wearing wedding rings in the end. That means they lived long enough, at least until 2015, for gay marriage to be legalized," explains Bravo.
With a subject as sensitive as HIV/AIDS, the directors wanted to ensure they were communicating the right message. UMG asked GLAAD to review the content, with the LGBTQ non-governmental organization giving the Love Me Like There's No Tomorrow music video its full support. The response from the public has been equally positive as well, with many YouTube viewers commenting they wanted to learn more about HIV or praising its efforts in de-stigmatizing the illness.
I'm just so relieved when people say that we would have made Freddie proud.

Esteban Bravo
"After [the Love Me Like There's No Tomorrow music video] came out, I checked the YouTube comments and it was overwhelming that so many people were so moved by it. Even just the story itself —two people who love one another who are almost pulled apart by an illness— was something people really responded to positively," says David.
Be sure to watch the full music video for Love Me Like There's No Tomorrow.