When the audience meets Kid, the eponymous hero of Netflix's Kid Cosmic, in the show's second season premiere, he is riding his signature bicycle through space on an important mission: food delivery. In this case, art imitates life. The sophomore run of Craig McCracken's superhero series was animated entirely during lockdown at Mercury Filmworks in Ottawa, which brought its retro comic-strip aesthetic and powerful effects to life using Toon Boom Harmony.
McCracken joked that Kid Cosmic's eight-episode second season was the world's first truly home-made cartoon, recalls Mercury Filmworks director Graham MacDonald. Graham and his crew previously worked with The Powerpuff Girls creator on Wander Over Yonder, though their latest collaboration pushes animated storytelling into new galaxies far, far away.
Kid Cosmic follows Kid and his unlikely team of superheroes, each with unique abilities bestowed by five Cosmic Stones of Power retrieved from a downed alien spacecraft. Action and (mis)adventures ensue as they face villains Fantos the Amassor and Erodius the Planet Killer — the latter of which casually destroys entire worlds and countless lives. Though the stakes are sky-high, stellar comedy uplifts this series.
Throughout production, Mercury's crew received storyboards and character designs from McCracken. From there, it became a collaborative process with significant creative freedom. For instance, effects design was entirely in-studio.
"They had a lot of trust in the work that we do and the expertise that we bring to the table," says MacDonald. "They wanted to let us do what we needed to do in terms of the performance of the characters and were very receptive to all the acting choices that were made by the animators, and the effects and compositing teams."
Technical director Pascal Aupry notes, "At the start of every season, we usually go through a big R&D process with character builds, comp, animation — making sure all the builds can be easily adapted and the crew can learn how to use them. I think this is rare as a lot of studios won't take the time to do a full R&D and test the builds."
Coming into season two of Kid Cosmic, Mercury upgraded to Harmony 20. The production gained access to master controllers, which are much more efficient than the pose copier used on previous shows, says character builds supervisor Robert Buchanan. Master controllers are easily embedded in scenes and can be sent over WebCC — Toon Boom's server suite, which enabled the crew to collaborate while working from home.
"Pose copiers have to be localized, so using Harmony's master controllers is a huge update to your pipeline. We use them for isolating character turns, head tilts, hands and feet. It helps you block in your scene quickly and then the animator is free to go frame-by-frame after that," says Buchanan.
The newer version of Harmony also allowed animators to work with deformation switches for the first time. As Buchanan notes: "For an arm cell, you can form an envelope Deformer around the edges or, for the same piece of artwork, you can flip it on the next frame along a spine down the middle. These custom deformation solutions allow for much more freedom."
After animation was lighting, a new department that Mercury launched with Kid Cosmic. Previously, the rim lights have been done by other departments in the studio or with peg offsets in compositing. With specialized artists on lighting, the effects crew was able to continue its preferred hand-drawn look with customized assets.
Frame-by-frame, hand-drawn effects were more elaborate, essential and numerous in season two — accessible from the effects library. After the animation process, the compositors would augment the assets with glows, blurs and colour adjustments as needed. Each department would enhance the work of the preceding one in the pipeline, using various tools in Toon Boom Harmony.
Effects supervisor Darren Bird says that having textures applied to brushes and lines allowed his department to implement the effects design in the actual drawings before they went to compositing. This means that the compositing team did not need to spend time overlaying texture maps on top of assets. "They could just worry about tweaking colour and glows and stuff like that. We could really get what that effect was from the design on the screen," notes Bird.
To facilitate a more hand-drawn look across character animation, effects and poses, artists used XP-PENs for Kid Cosmic — notably, the first time this brand of drawing tablet has been used at Mercury Filmworks.
Between the first and second seasons, compositing supervisor Andrzej Neugebauer notes the scope of the show did get more complicated — forcing a different approach to prepping the comps. There was a greater focus on creating a more customizable, configurable setup for the compositors to use given that there were varied environments with different lighting conditions.
Naturally, 3D assets would also play a large role in a space-set production. Buchanan outlined Mercury Filmwork's process: "They would start at the beginning, making core assets. Then, they would block out the shots and interact with the animators and effects team."
MacDonald points out that all the vehicles, including Kid's bike, and backgrounds were done using the technique. He says, "The background artists would paint specific textures to use when they would create their 3D assets. They were using true 2D artwork and mapping it onto shapes."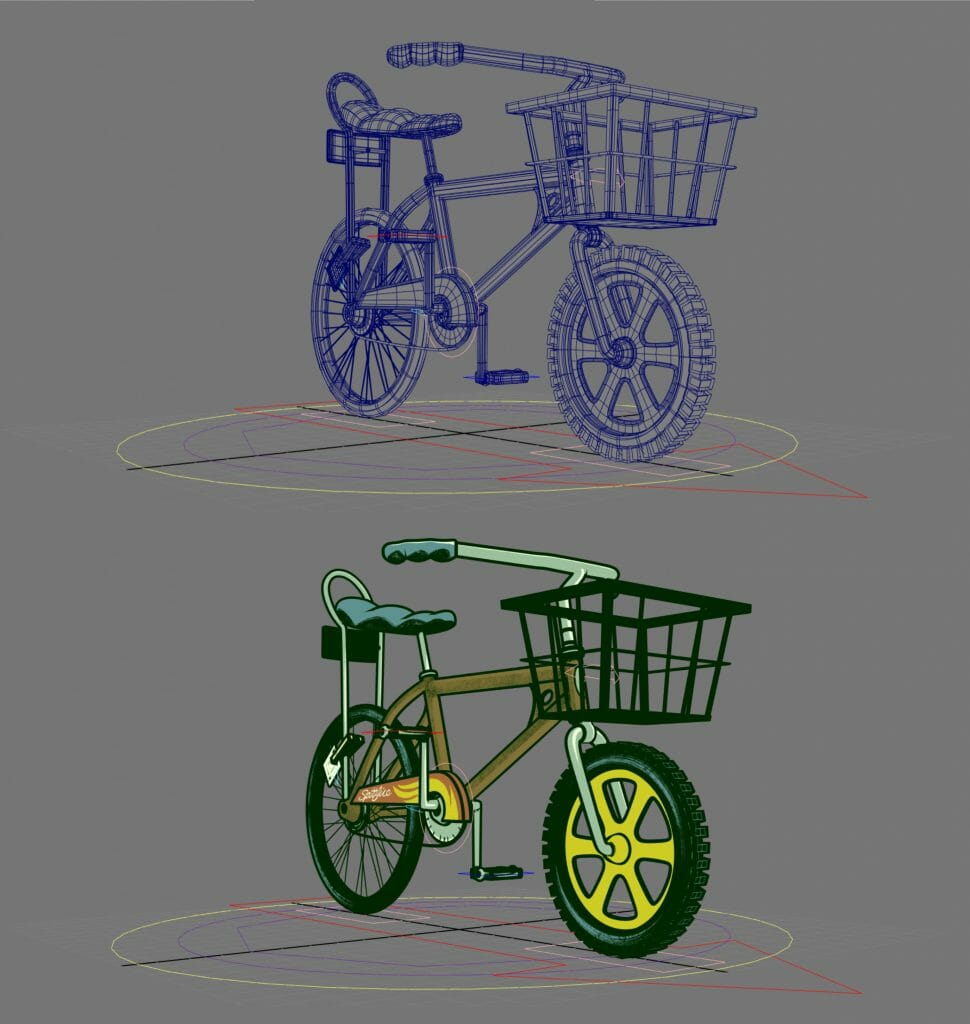 He continues, "There were a couple of spaceships where they did such a good job that it doesn't look like it's 3D. It's moving in three dimensions, but it doesn't look different from the characters or the backgrounds. It fits right in."
Another consistent benefit through production was custom scripts. Neugebauer notes, "The custom scripting features made things pretty quick, like scripting to output to the right folder with the right filename — all at the click of a button. It would save the scene and send it to the render queue."
Bird elaborates, "When it would come to final products, there would be a revision on a scene where someone changed something and line thickness would not be right. We would be able to run the scripts on the whole scene and fix things up."
With the third and final season of Kid Cosmic still in production, Mercury Filmworks is always looking for new talent keen to join their crew. Key qualities include being adaptable, good at problem solving and organized, as well as being adept at traditional hand drawn animation — even if they are skilled in Harmony's cutout tools.
MacDonald summarizes it well: "The learning curve never stops here, so you have to be willing to keep trying."
Much like the vastness of space in Kid Cosmic, from there the possibilities are limitless.
---
Looking for more from Kid Cosmic? Both seasons are currently available to stream on Netflix.
Interested in seeing more from the crew at Mercury Filmworks? Be sure to watch the studio's new Mercury Shorts series.