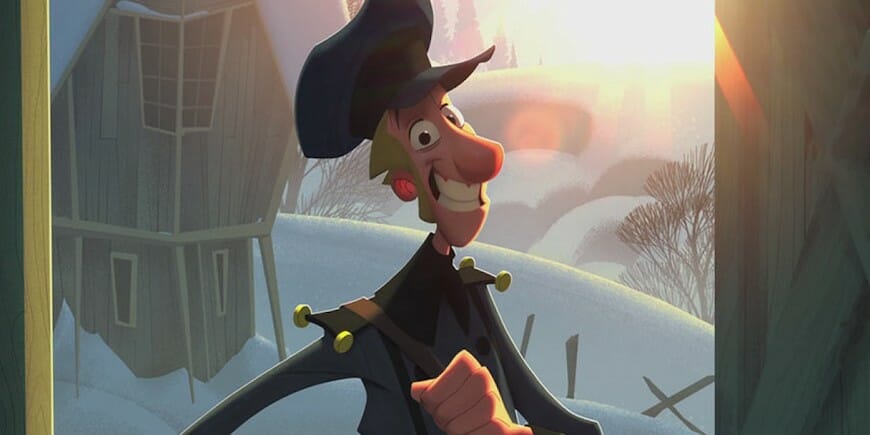 Top Animation News is a weekly column that rounds up the biggest, best and breaking stories from the world of animation. This edition covers December 28 to January 4, 2019.
1. Animation and VFX helped drive 2018's record box office
Looking back on 2018, it was a record-breaking year for the US film industry — with animated and VFX features delivering massive revenue. The domestic box office brought in $11.5 billion in tickets sales last year. Among the highest earning animated movies were Incredibles 2 ($608,581,744), Dr. Seuss' The Grinch ($265,499,485) and Ralph Breaks the Internet ($175,713,583).
See all of 2018's highest-earning animated films on "Animation Magazine".
2. The most anticipated animated films of 2019
Looking ahead to 2019, there are a huge number of animated features to be excited about. As is typical of Hollywood productions, the majority are 3D or VFX films including Frozen 2, The Lion King and Toy Story 4. That said, there is one 2D animated feature on the list: Netflix's Klaus, produced in Toon Boom Storyboard Pro and Toon Boom Harmony.
Explore all of 2019's most buzzworthy animated films on "Collider".

3. Legendary Disney animator Don Lusk dies
Don Lusk, the last living animator from Disney's Golden Age, has passed away in San Clemente, California. He was 105. While at Disney, Lusk pioneered animation techniques for mixing picture and sound, backgrounds and lighting effects, and worked on landmark features including Snow White and the Seven Dwarfs, Fantasia and Pinocchio, among others. After leaving the House of Mouse, he contributed to the perennially popular Charlie Brown Thanksgiving and directed over 100 episodes of Smurfs before retiring in 1993.
Discover Don Lusk's life and career on "The Washington Post".
4. KingstOOn brings global animation to Jamaica this month
The government of Jamaica, in collaboration with the World Bank Group, will be hosting the third annual KingstOOn in Kingston, Jamaica from January 18 to 27. The event aims to connect local animators, aspiring artists and studios to each other and the global animation industry. KingstOOn will include keynotes, panels, workshops, a festival competition and highlight talent from around the Caribbean and the world. Among the special guests this year is Bradley Kravitz, Toon Boom Animation's director of sales for the Americas.
Take a trip to "Animation Magazine" to see what else is happening at KingstOOn.
5. Sony releases Spider-Man: Into the Spider-Verse script for free
Spider-Man: Into the Spider-Verse co-writer Rodney Rothman shared a link to the film's script on his Twitter, apparently with Sony Picture's blessing. Released publicly two weeks after the movie's launch, the full screenplay was also written by Phil Lord. Thus far, Spider-Man: Into the Spider-Verse has taken over $85.5 million at the domestic box office, received massive critical acclaim (with a 97 percent on "Rotten Tomatoes") and is a strong contender for the Best Animated Feature prize at the 2019 Academy Awards.
Swing into the full Spider-Man: Into the Spider-Verse screenplay on "Vanity Fair".

6. Changyou's Journey is a young animator's tribute to his father
"Animation Magazine" recently did a feature on Changyou's Journey — an animated short produced by 18-year-old Perry Chen to honour his father, who passed away from cancer. The film took him —alongside his mother and producer Zhu Shen, animator Matthew Fisher and background artist Kiana Mosser— five years to complete. Changyou's Journey was storyboarded in Toon Boom Storyboard Pro.
Read Perry Chen's full Changyou's Journey feature on "Animation Magazine".
7. Director Gustavo Steinberg talks fear and filmmaking in Tito and the Birds
Brazilian 2D animated feature Tito and the Birds has seen huge acclaim on its tour of the festival circuit, from Annecy to Animation Is Film; its plot follows the titular character as he combats a global pandemic of fear. Co-director Gustavo Steinberg spoke to "Cartoon Brew" about the inspiration and production process behind the project — including its animation in Toon Boom Harmony. He says, "After we had already given up on having external outlines for the characters since there are no straight lines, we created cut-out animation in Toon Boom Harmony—so we actually had puppets. … The characters' imperfections also helped in terms of the production pipeline, because animators were able to distort the characters and change the lines."
Catch the full interview with Tito and the Birds co-director Gustavo Steinberg on "Cartoon Brew".

8. Funan director Denis Do to create BIAF 2019 poster and trailer
The Bucheon International Animation Festival (BIAF; October 18 to 22) has named Denis Do, director of feature Funan (produced in Toon Boom Storyboard Pro and Harmony 2D animation software), to create its 2019 poster and trailer. The French film, based loosely on his family's experience in Khmer Rouge-era Cambodia, won the 2018 BIAF Jury Prize. Do will also serve on the BIAF 2019 feature film competition jury.
Find out more about Funan, Denis Do and BIAF 2019 on "Animation World Network".
9. #Spidersona goes viral with Spider-Man: Into the Spider-Verse fans
Thousands of Spider-Man: Into the Spider-Verse fans have been spinning Spidey versions of themselves online and sharing them on Twitter with the #Spidersona hashtag. Both amateurs and professionals have gotten tangled in the digital web of character designs including 2D animator Mari Costa, comic book artist Steenz and story artist Kiana Mai, among others.
Check out some of the best #Spidersona submissions on "Bleeding Cool".
10. Is the Deadpool cartoon back from the dead?
It seems as though Marvel's Merc with a Mouth may be getting an animated series after all. Last March, it was announced the Donald Glover-led Deadpool cartoon was cancelled. The character's co-creator Rob Liefeld is now saying an unnamed Marvel executive has told him, "Don't worry, Robert, we're going to give you a Deadpool cartoon."
Head over to "Nerdist" for more on the potential Deadpool animated revival.
What Top Animation News were you most excited about this week? Was there something we forgot to mention? Let us know in the comments below!
Banner image source: Netflix