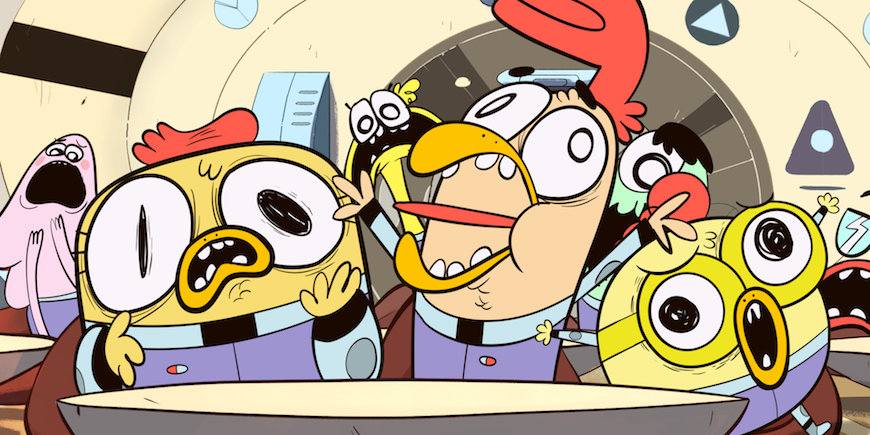 Top Animation News is a weekly column that rounds up the biggest, best and breaking stories from the world of animation. This edition covers October 12 to 19, 2018.
1. Space Chickens in Space is ready to blast off
While animated sci-fi comedy Space Chickens in Space may follow three poultry accidentally enrolled in an elite intergalactic academy, its production is a case study of talent from around the planet. The 52-part series is produced by Ánima Estudios in Mexico, Studio Moshi in Australia and co-produced by Gingerbread Animation in Ireland and Disney EMEA. Animation is done in Toon Boom Harmony in Australia at Studio Moshi by a crew of 30 before being sent back to Dublin for post-production. Space Chickens in Space is set to launch later in 2018.
Take off with the Space Chickens in Space details on "Animation Magazine".
2. Kobe Bryant removed from Animation Is Film Festival jury
Just days before the Animation Is Film Festival was set to kick off (October 19 to 21), sports star and Dear Basketball Oscar winner Kobe Bryant was removed from the event's jury following a Change.org petition citing his 2003 sexual assault allegation. "After discussions with the various stakeholders of Animation Is Film, the decision has been made to remove Kobe Bryant from the 2018 jury," said Eric Beckman, CEO of festival producer GKIDS. "We are a young organization and it is important to keep our collective energies focused on the films, the participating filmmakers, and our festival attendees."
Find the full Animation is Film Festival x Kobe Bryant story on "Variety".

Source: Mark Simon
3. How The Walking Dead is brought to life in Storyboard Pro
The ninth season of AMC's hit horror series The Walking Dead premiered on October 7. Fans of the show's heart-stopping special effects and stunts partially have Mark Simon to thank. The legendary storyboard artist helped director Greg Nicotero plan, organize and lay out the visual blueprint of each episode's biggest moments — and he did it all in Toon Boom Storyboard Pro.
See how Storyboard Pro was used for The Walking Dead on the blog.
4. Netflix hits record new subscribers and streaming revenue
It seems Netflix's original content push is paying off. The California-based streaming giant saw its revenue grow 34 percent in Q3 2018, hitting $3.99 billion. Netflix also gained seven million new subscribers during the same period — a record for the company and a 31-percent increase over the year prior. This is reason to celebrate for the hundreds of global animation studios who produce original content for the SVOD.
Stream all the Netflix updates on "Kidscreen".
5. Meet 2018's most powerful animated television showrunners
"The Hollywood Reporter" has released its annual most-powerful lists, including one for animated television series. Notably, all those present lead adult-adult-oriented cartoons including the much buzzed-about Raphael Bob-Waskberg (BoJack Horseman), and Justin Roiland and Dan Harmon (Rick and Morty). Rounding out the list are Loren Bouchard (Bob's Burgers), Seth MacFarlane (Family Guy) and Matt Groening (Disenchantment and The Simpsons).
Look over the list on "The Hollywood Reporter".
6. Teen animator Perry Chen talks Changyou's Journey
Perry Chen was just 12 years old when he began writing and directing an animated tribute to his recently deceased father. Six years later, the five-and-a-half-minute short film, Changyou's Journey, had its international premiere at TIFF Kids this past March. When asked how he made it all happen, he says, "We had a shoestring budget as indie filmmakers, relying primarily on private donations from friends, families, and colleagues of my parents. We used software generously donated by Toon Boom Animation and Wacom Cintiq tablets."
Read Perry Chen's full Changyou's Journey interview on "Animation World Network".
7. Animals' Phil Matarese and Mike Luciano sign Fox TV deal
Phil Matarese and Mike Luciano, creators of HBO's Animals (produced in Toon Boom Harmony), have signed a two-script deal with 20th Century Fox. Under the agreement, they will create two animated series for the studio, which will then be shopped around to various platforms. This is the latest in 20th Century Fox TV's moves into adult animation, having recently announced four new shows: Bless the Harts, Hoops, Central Park and Solar Opposites.
Check out "Deadline" for more details on the deal.
8. "Cartoon Brew" launches Animation Around the World series
Industry publication "Cartoon Brew" has launched a self-produced web series titled Animation Around the World that speaks with international experts about their respective local markets. For the premiere episode, its team talked to José Iñesta, director of the Pixelatl animation conference (Mexico), Kwang-jin Jung of the Seoul Business Agency (South Korea) and Vassilis Karamitsanis, president of ASIFA Hellas (Greece). The goal is to spread regional insights and information, and illustrate how global the animation industry truly has become.
Watch the first episode of Animation Around the World above and read more on "Cartoon Brew".
9. DreamWorks Animation Television to launch three more Netflix series
Earlier this week at MIPJunior, DreamWorks Animation Television president Margie Cohn announced the company will be releasing three new Netflix kids series in 2019 and 2020: Archibald's Next Big Thing, Gabby's Dollhouse and Rhyme Time Town. The studio already has a number of shows on the streaming platform including The Boss Baby: Back in Business, which premieres today, and Guillermo del Toro's DreamWorks Tales of Arcadia: Wizards and Trollhunters.
Dig into the DreamWorks Animation-Netflix announcement on "Animation World News".

Source: Tyron Hendy Instagram
10. Artist Tyron Handy reimagines classic cartoons with black characters
Philadelphia-based artist Tyron Handy has reimagined Millennial cartoon classics like The Powerpuff Girls, Rugrats, Hey Arnold! and The Simpsons with black characters. After posting them on his Instagram account (@studio_total_onyx_), his work has gone viral, with hundreds of likes per image and his follower count skyrocketing. Handy says, ""There weren't a lot of cartoons that I felt represented me much growing up — most black characters in cartoons and tv shows were stereotypical side characters and the best friend of the white main character. Black kids need to be able to see more representations of themselves in media."
Head over to "Buzzfeed" to see Tyron Handy's work and interview.
What Top Animation News were you most excited about this week? Was there something we forgot to mention? Let us know in the comments below!
Banner image source: Gingerbread Animation