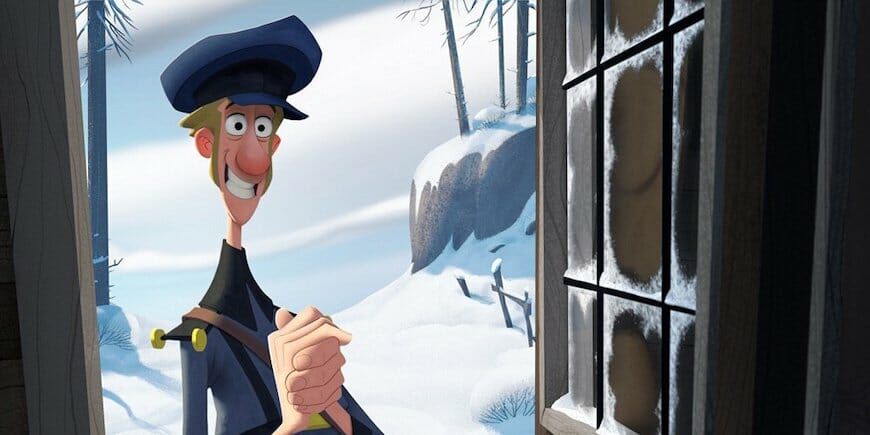 Top Animation News is a weekly column that rounds up the biggest, best and breaking stories from the animation industry. This edition covers March 22 to 29, 2019.
1. Netflix's Klaus to get an Oscar-qualifying run
Klaus, Netflix's first original animated feature film, will be getting an Oscar-qualifying theatrical run. Sergio Pablos' Klaus is being produced by The Spa Studios with traditional hand-drawn techniques paired with a CGI pipeline, animated in Toon Boom Harmony and planned in Storyboard Pro. Set for a Winter 2019 release, Klaus is a Santa Claus origin story centred around the friendship between a postman and toymaker.
Gift yourself more Klaus details on "Animation Magazine".
2. Apple enters the streaming wars with Apple TV+
Tech giant Apple announced details this week about its upcoming content platform, Apple TV+. The streaming service will compete with established players like Netflix, Amazon Prime and Hulu, and has already secured A-list creators like Steven Spielberg, Steve Carell, Oprah and J.J. Abrams. Apple has budgeted $2 billion for original content including three animation productions thus far: Wolfwalkers from Cartoon Saloon, Central Park and a series of toons based on Charles Schulz's Peanuts characters.
Stream all the Apple TV+ details on "Cartoon Brew".

3. Sun & Moon animates Doctor Who: The Macra Terror in Harmony
Doctor Who: The Macra Terror is the latest of the British sci-fi series' 97 missing episodes to get the animated treatment, brought back to life by UK-based Sun & Moon Studios in Toon Boom Harmony. "It was a bit of a risk as we had never used [Toon Boom Harmony] and it was to do this high-profile project, but we learned a lot in a very short space of time. We had faith in it and we're very happy with the results," says Dylan Shipley, co-founder of Sun & Moon Studios.
Take the TARDIS to the Toon Boom blog to see how Sun & Moon Studios animated Doctor Who: The Macra Terror in Harmony.

Source: Gingerbread Animation
4. All the Irish Animation Award 2019 winners
Brown Bag Films and Paper Panther Productions were among the big winners at the 2019 Irish Animation last Saturday in Dingle, Ireland, with three wins each. The event bookended the Animation Dingle conference (sponsored by Toon Boom). Among the big Harmony-produced winners were Space Chickens in Space from Gingerbread Animation (Kid's Choice Award for Best Animated Series, Best VFX as Part of an Animated TV Series or Film) and Danger Mouse by Boulder Media (Best Director of an Animated TV Series, Best Music and Best Sound Design), though many of the other winners did preproduction in Storyboard Pro.
Explore the full list of Irish Animation Award 2019 winners on "Kidscreen".
5. Watch out for 2019's Rising Stars of Animation
"Animation Magazine" announced its Rising Stars of Animation 2019 list, with creatives from across the animation spectrum — ranging from 2D to 3D to stop-motion to VFX. Mélanie Daigle is among the up-and-coming professionals profiled and is proof today's top talents are using the top tools. An animation director at DHX Media working on the Peanut series, she is quoted as saying, "I learned Toon Boom Harmony on the job, and I've been applying, adapting, and refining those same classical animation skills in that software ever since."
See the full Rising Stars of Animation 2019 list on "Animation Magazine".
More Top Animation News below!

6. Passion Pictures' tail-waggingly good animation for 101 Dalmatian Street
When Disney was looking for a partner for its biggest-ever UK animated production, it chose London-based studio Passion Pictures. Having never done a full series, it decided to collaborate with Vancouver's Atomic Cartoons. Speaking of the production process, executive producer Cara Speller of Passion Picture notes, "We send Atomic a locked animatic [example below], which is an edited storyboard with final dialogue and placeholder sound effects. We also send launch notes on animation and effects. They do the animation and compositing on [Toon Boom] Harmony; we and Disney see their work at various stages. Then we complete the post-production: music, sound design, final colour."
Sniff out more 101 Dalmatian Street production details on "Cartoon Brew".
7. Disney's Amphibia leaps onto screens Summer 2019
Starring Brenda Song, Amphibia is the latest children's animated comedy series from Disney Television Animation. Premiering Summer 2019, it follows 13-year-old Anne Boon Chuy who is magically transported to the fantastical titular land populated by frog-people. Amphibia is created and executive produced by Matt Braly, best known as the director of Disney's Gravity Falls, and planned in Toon Boom Storyboard Pro and animated in Harmony.
Swim into all the Amphibia details on "Animation World Network".

8. Trailer Park Boys: The Animated Series premieres this weekend
Trailer Park Boys fans rejoice: the long-running live-action Canadian comedy is returning as an animated series this Sunday, March 31. Aptly titled Trailer Park Boys: The Animated Series, the first season will include 10 episodes released simultaneously on Netflix — all produced in Toon Boom Storyboard Pro and Harmony. Julian, Ricky and Bubbles will all be back and voiced by their original actors, similar to the cartoon version of fellow Canuck comedy Corner Gas Animated.
Watch the Trailer Park Boys: The Animated Series trailer above.
9. Bob's Burgers producer Nora Smith signs multi-year 20th Century Fox deal
Nora Smith is evolving and expanding her relationship with 20th Century Fox through a multi-year overall deal. She rose from a staff writer on Bob's Burgers (produced in Toon Boom animation software) to executive producer, and will now serve as co-showrunner alongside creator Loren Bouchard. The two, alongside Josh Gad, have also co-created Apple TV+ animated comedy Central Park.
Dig into the Nora Smith x Fox deal details on "Deadline".
10. Profile of a storyboard artist: Kevin Harkey
Kevin Harkey has storyboarded some of Disney's biggest animated films of the last three decades, from Beauty and the Beast and The Lion King in the 1990s to How to Train Your Dragon and Frozen in the 2010s. Among the highlights of his career was drawing a chase scene in Tarzan where he devised which predators would be pursuing Jane, with the segment becoming one of the film's most memorable moments. While his talent has remained, the tools and technology of the industry have changed over the years and he has since adopted Toon Boom Storyboard Pro as it's the program used by his major studio clients.
Read the full Kevin Harkey profile on "Seven Days".
What Top Animation News were you most excited about this week? Was there something we forgot to mention? Let us know in the comments below!
Banner image source: Netflix